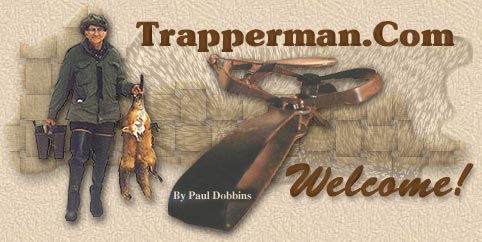 Wilderness Trapping and Living
No Profanity *** No Flaming *** No Advertising *** No Anti Trappers *** No Politics
No Non-Target Catches *** No Links to Anti-trapping Sites *** No Avoiding Profanity Filter
Home
~
Trap Talk
~
ADC Forum
~
Trap Shed
~
Wilderness Trapping
~
International Trappers
~
Fur Handling
Auction Forum
~
Trapper Tips
~
Links
~
Gallery
~
Basic Sets
~
Convention Calendar
~
Chat
~
Trap Collecting Forum
Trapper's Humor
~
Strictly Trapping
~
Fur Buyers Directory
~
Mugshots
~
Fur Sale Directory
~
Wildcrafting
Trapper's Tales
~
Words From The Past
~
Legends
~
Archives
~
Kids Forum
~
Lure Formulators Forum
~Dobbins' Catalog~

Coyote snowshoe line

#6152254


02/09/18

03:29 AM

02/09/18

03:29 AM

Joined:

Dec 2017


Posts: 9
Canada Marsh Mutant

OP




trapper

OP


trapper

Joined:

Dec 2017


Posts: 9
Canada

Hi guys, haven't been able to trap all season but finally have time now for the last 20 days of the season... I'm a water trapper but this late in the season we can only snare beaver and yotes, so i want to give the K9 snaring a go. A couple days ago I read an article in a Fur Harvesters magazine about running a figure 8 snow shoe line a few miles long and setting snares along the trail (the author was referring to trapping in my Province too). So I geared up today and bush whacked a 4 KM long figure 8 trail in an area that I believe to be frequented by coyotes. Throughout my travels I never noticed a single yote track, just rabbits...BUT we also just got 2 feet of snow last night.

Is this a good plan for yotes or am I just wasting my time....I feel like I'm just walking in the dark here? Should I maybe get a lure to put out along my line? Haven't set any snares yet but took dam near half a day to make that line.. Any advice would be greatly appreciated!

Last edited by Marsh Mutant;

02/09/18

03:31 AM

.