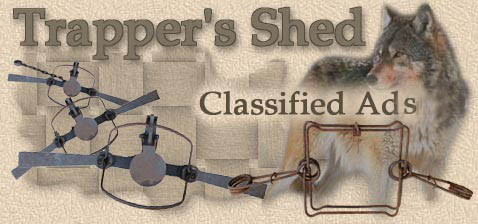 No Profanity *** No Flaming *** No Advertising *** No Anti Trappers *** No Politics
No Non-Target Catches *** No Links to Anti-trapping Sites *** No Avoiding Profanity Filter
Home
~
Trap Talk
~
ADC Forum
~
Trap Shed
~
Wilderness Trapping
~
International Trappers
~
Fur Handling
Auction Forum
~
Trapper Tips
~
Links
~
Gallery
~
Basic Sets
~
Convention Calendar
~
Chat
~
Trap Collecting Forum
Trapper's Humor
~
Strictly Trapping
~
Fur Buyers Directory
~
Mugshots
~
Fur Sale Directory
~
Wildcrafting
Trapper's Tales
~
Words From The Past
~
Legends
~
Archives
~
Kids Forum
~
Lure Formulators Forum
~~~ Dobbins' Products Catalog ~~~
Trap Shed Rules
1. All posts made for selling must contain the asking price for the item - this is not Ebay.
2. No electronic media (videos, dvds, audios) will be sold or traded on this forum.
3. Trapperman.com is not responsible for transactions made at this site.
4. This page is intended for the sale, trade or purchase of used trapping equipment and not a place to sell new items, or stuff you manufacture.
5. No Begging for free stuff
6. A post may only be brought to the top purposely three times, and will be locked after the third time. Once a post has been locked or deleted, it cannot be put back on the forum for one month.
7. Make it clear what you wish in the title, not just WTT or WTB
8. The only reply allowed on each thread is a TTT by the post initiator. All questions and communications will be done by PMs only. If PMs aren't answered in a timely manner, the poster will be banned from using the Trap Shed. (Exception to Rule #8 - A reply is allowed by a person who sends payment. Once payment sent is posted, the post will be locked.)
9. Except for muzzleloaders, no Guns, or ammunition will be bought/sold/traded on this forum.
10. You are limited to three threads at any one time for selling/trading/buying items. All posts older than 1 month with no activity will be locked
Vintage catalogs / books for sale - price drop

#6211796


04/08/18

03:59 PM

04/08/18

03:59 PM

Joined:

Dec 2011


Posts: 224
Canastota, NY woodsnwater517

OP




trapper

OP


trapper

Joined:

Dec 2011


Posts: 224
Canastota, NY

60 + vintage paper supply catalogs and books for sale. List includes some of the following :

Hawbakers catalogs from 1940ís - 1980ís
Russ Carman catalogs
Deer Creek Conpany catalogs
Eckhartís catalogs
No nonsense mink Trapping by Mike Marsyada
Garold Weilands catalogs and long liner mink and long liner coyote paperbacks
Russ Carmanís fox methods paperback
Woodcraft by EH Kreps
Northlands pocket partner by VE Tingley
Hawbakers supreme fox and coyote
Lewis Evkharts all weather record fox
Professional fox Trapping by OL Butcher along with supply catalogs from 70ís
The mink and how to trap them by OL Butcher
Canadian trappers dirt hole system
Voice of the trapper
Deadfalls and snares by AR Harding
The trappers handbook by AR Harding - very old copyright 1923
67th annual N.Y.S. fish game and forest league program from Cortland NY 1931
Pete Rickards fox and coyote methods from 70ís
Professional beaver and otter trapper by OL Butcher

Many others not listed. Can send pictures to phone or email. Will ship usps flat rate. $195 shipped for everything.


Last edited by woodsnwater517;

04/20/18

06:11 PM

.