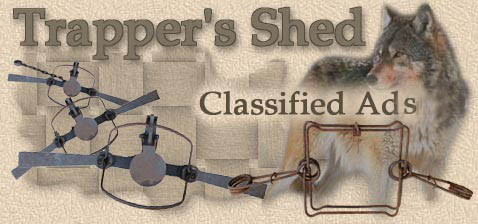 No Profanity *** No Flaming *** No Advertising *** No Anti Trappers *** No Politics
No Non-Target Catches *** No Links to Anti-trapping Sites *** No Avoiding Profanity Filter
Home
~
Trap Talk
~
ADC Forum
~
Trap Shed
~
Wilderness Trapping
~
International Trappers
~
Fur Handling
Auction Forum
~
Trapper Tips
~
Links
~
Gallery
~
Basic Sets
~
Convention Calendar
~
Chat
~
Trap Collecting Forum
Trapper's Humor
~
Strictly Trapping
~
Fur Buyers Directory
~
Mugshots
~
Fur Sale Directory
~
Wildcrafting
Trapper's Tales
~
Words From The Past
~
Legends
~
Archives
~
Kids Forum
~
Lure Formulators Forum
~~~ Dobbins' Products Catalog ~~~
Trap Shed Rules
1. All posts made for selling must contain the asking price for the item - this is not Ebay.
2. No electronic media (videos, dvds, audios) will be sold or traded on this forum.
3. Trapperman.com is not responsible for transactions made at this site.
4. This page is intended for the sale, trade or purchase of used trapping equipment and not a place to sell new items, or stuff you manufacture.
5. No Begging for free stuff
6. A post may only be brought to the top purposely three times, and will be locked after the third time. Once a post has been locked or deleted, it cannot be put back on the forum for one month.
7. Make it clear what you wish in the title, not just WTT or WTB
8. The only reply allowed on each thread is a TTT by the post initiator. All questions and communications will be done by PMs only. If PMs aren't answered in a timely manner, the poster will be banned from using the Trap Shed. (Exception to Rule #8 - A reply is allowed by a person who sends payment. Once payment sent is posted, the post will be locked.)
9. Except for muzzleloaders, no Guns, or ammunition will be bought/sold/traded on this forum.
10. You are limited to three threads at any one time for selling/trading/buying items. All posts older than 1 month with no activity will be locked
WTT Benchmade Adamas 2750 Sand AUTO AXIS Knife

#6296349


08/07/18

08:24 AM

08/07/18

08:24 AM

Joined:

Jul 2018


Posts: 2
Alabama Tnerb

OP




trapper

OP


trapper

Joined:

Jul 2018


Posts: 2
Alabama

Willing to Trade for traps of equal value. Retails for $233.00 I am open to suggestions regarding trade value.

Please don't let my newbie status scare you away from a trade. I have been lurking around the site for months reading and catching up with the latest trends.

I have a 100% positive feedback rating on Ebay using the same Tnerb5g3g username. Also have 100% positive feedback on Gunbroker.

1-Benchmade 2750SBKSN Adamas Auto, 3.82 in. D2 Tool Steel Blade, Sand G10, Black Combo Edge.

Designed by Shane Seibert. This is the most bomb proof Automatic Opening folding knife I have ever seen. This knife

comes in the desert sand color w/desert sand molle pouch. This knife is Brand New, and NEVER had anything touch the blade.

Never even carried, been in the sheath since bought new. See the link below for photos and description:

BMKnives.com

Benchmade Auto Adamas 2750 designed by Shane Sibert. This automatic knife features a 3.82 in. black finished D2 tool steel blade. The Adamas knife features machined desert sand G10 handles with a lanyard hole and full stainless liners. Comes with a reversible, tip-up pocket clip. The AUTO version of Seibert's original design features Benchmade's patented Auto-AXIS pull release design which actuates the blade as well as unlocks it. Benchmade Knife Company is proud to donate a portion of the proceeds from the sale of these knives to the Ranger Assistance Foundation.

Blade Length: 3.82"

Blade Thickness: 0.160"

Handle Thickness: 0.730"

Blade Material: D2 Tool Steel

Blade Hardness: 60-62HRC

Blade Style: Drop-Point w/ Ambidextrous Thumb-Studs

Weight: 7.70oz.

Pocket Clip: Tip-Up, Reversible, Deep-Carry

Lock Mechanism: Auto AXIS

Overall Length: 8.70"

Closed Length: 4.88"

Sheath Material: MOLLE® Pouch

Class: Desert Sand

Last edited by Tnerb;

08/07/18

12:14 PM

.
Re: WTT Benchmade Adamas 2750 Sand AUTO AXIS Knife

[Re: Tnerb] #6298021


08/09/18

04:30 PM

08/09/18

04:30 PM

Joined:

Jul 2018


Posts: 2
Alabama Tnerb

OP




trapper

OP


trapper

Joined:

Jul 2018


Posts: 2
Alabama