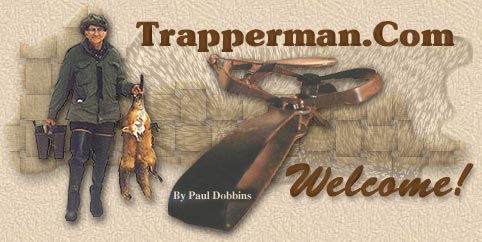 Trap Collecting
No Profanity *** No Flaming *** No Advertising *** No Anti Trappers *** No Politics
No Non-Target Catches *** No Links to Anti-trapping Sites *** No Avoiding Profanity Filter
Home
~
Trap Talk
~
ADC Forum
~
Trap Shed
~
Wilderness Trapping
~
International Trappers
Auction Forum
~
Trapper Tips
~
Links
~
Gallery
~
Basic Sets
~
Convention Calendar
~
Chat
~
Trap Collecting Forum
Trapper's Humor
~
Strictly Trapping
~
Fur Buyers Directory
~
Mugshots
~
Fur Sale Directory
~
Wildcrafting
Trapper's Tales
~
Words From The Past
~
Legends
~
Archives
~
Kids Forum
~
Lure Formulators Forum
~ Dobbins' Products Catalog ~
How Rare is This?

#6406514


12/23/18

01:12 AM

12/23/18

01:12 AM

Joined:

Dec 2018


Posts: 1
Colorado CharlieColorado

OP




trapper

OP


trapper

Joined:

Dec 2018


Posts: 1
Colorado

I have been asked by a friend to sell some traps. I trapped as a kid, and have a few traps, so I have a beginners level knowledge in sharing information on this site. I have not posted on this forum before so please excuse me if I don't get some of the lingo right.
One of the traps I have been asked to sell is a circular trap described in a book as being made in Kenosha Wisconsin by Mr. D. Crossett around 1840 or 1850. The trap I have is exactly the trap shown in the picture. Single spring, a seperate "dog" to hold a jaw on each side of the trap, the dogs are held apart by a stick. When an animal steps on the stick it pulls the dogs down and the jaws are released. The stick takes the place of the pan for triggering the trap. It is very well made and appears to be unmarked. The circular base is 10-1/4 inches in diameter, the jaws stand 7 inches tall from the floor, the trap is 23-1/2 inches long from the end of the spring to the far edge of the circular base. There is only 3 links on the chain. There are 7 teeth on one jaw and 8 on the other, all teeth are welded to the top side of the jaws.
I was told by the guy who owns it that it is Very Rare.
I would like to know if I have identified the trap correctly, and what the possible value would be. If anyone needs more information please let me know. I will be posting questions about some of the other traps later.
thank you!
Re: How Rare is This?

[Re: CharlieColorado] #6434076


01/19/19

08:26 PM

01/19/19

08:26 PM

Joined:

Jan 2009


Posts: 345
Candor NY Bruce1


trapper


trapper

Joined:

Jan 2009


Posts: 345
Candor NY

european common trap for region.Not a high dollar trap $ 25 more or less