Posted By: DaYooper14
3rd Annual Trapperman Beavertail Challenge! -

11/27/18

04:44 PM
It is time for the 3rd Annual Trapperman beavertail challenge!
The rules are easy. Post a picture of the biggest beavertail on a beaver you have caught THIS YEAR, and if you have the WIDEST beaver tail by the LAST DAY IN FEBRUARY, you win.
I'm adding a second category this year. Hutchy's suggestion it is – Longest dried raccoon pelt.
Beaver Submissions
A picture of the tail, with a tape measure across it, along with a picture of you and the beaver will do. Please make sure the measurement picture is clear, and accurate. Tail only submissions won't count. I'll post updated standings from the thread submissions periodically so we won't have to hunt through. Multiple entries allowed.
Raccoon Submissions
Tip of nose to tip of hair on tail stretched and dried. Picture should show tape measure clearly. Pelt should be lying flat, with no hands on the tail or head "pulling" and not be on the board when taken. We may have to adjust this as we go but lets start there.
Prizes So Far
1st Place Beaver Tail - your selection of any two 4oz bottles of Dobbins products
1st Place Raccoon Length - your selection of any two 4oz bottles of Dobbins products
Random Drawing #1 Beaver Submissions - RTS Setter donated by Trapset
Random Drawing #2 Raccoon Submissions - TBD
If you have trouble with posting images, pm me and we'll get it sorted or posted for you.
Happy trapping and good luck!
2017/2018 Results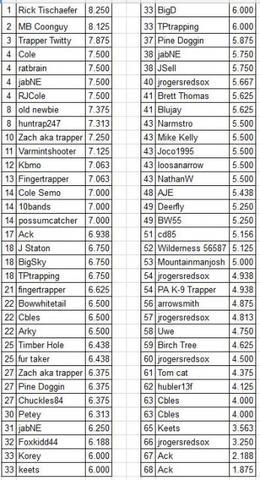 2016/2017 Results