Posted By: Sharon
What's Fah Dinnah...Are You Creative.... -

11/24/21

09:45 PM
...when it comes to improvising with food , when you don't have typical ingredients ?
What would you replace in a recipe if you are lacking some classic ingredients ? There are very imaginative minds here, I'm sure that would come up with some novel replacements and still turn out winner meals.
This is a challenge I find motivating to do at times. I've helped friends and even some very capable chefs find suitable replacements that even they didn't think of when they saw they were out of something needed.
Green beanie casserole , for example.
I didnt have flouah....not even a can of cream of shroom or cream of anything to add ...no store shrooms, but do have nice dried Morels that I pick every May . No block cheddar cheese.
Nothing replaces bacon, and I do have that !
Ok. Got the beanies out . Soaked a dish of morels , cut up onions, and garlic.
Dont evah throw out the juices from beanies or the shrooms soaking....save it for adding into anything, gravy, etc.
Look in your pantry and cupboards, see what you have for the creamed sauce for the casserole....see any crackahs ? Pancake mix ? Even bread can be crushed up and mixed with milk or water to make a cream sauce...well I had some biscuit mix from Red Lobstah !
Melted buttah in a pan and stirred the biscuit mix in, then some canned milk and a wee bit of the juice from the morels and beanies. Perfect. Had my "cream of shroom soup " mix .
No block cheddar cheese, but did have some cheddar slices for sandwiches , so I'll use those to melt ovah the top when it is almost done baking .
I think it will be good ! I'll bake it later, just wanted to show the Tribe how fun it can be to improvise, like a good musician.
Have something that takes nutmeg ? Like in a pie or sweet potatoes ? No nutmeg ? Try cinnamon, or allspice. Even some ground ginger can suffice.
I'm reminded of a favourite old TV series, Northern Exposure. When Shelly , who ran the bar with her Holling, accidentally dropped a bottle of wine and broke the base , spilling it all, that was worth thousands of dollars. A friend , who was the gal of a world renown chef, Adam, and a Vietnam Veteran, was with her and said no worries, she was good in improvising . She took that empty bottle , glued the base back on ( it was a clean break) , and with cheap wine and some spices, along with a pinch of Alaskan dirt, she made the replacement . That night when the bottle was opened at a table of impressive guests , Chef Adam did the honors. He smelled the wine , described in detail its fruity and bass tone flavours, poured a little and sipped....he said .."its.....its....its......perfect !" Shelly picked her jaw off the floor in waiting, and her friend just smiled in secure assurance....

Love that series.
Onions, bacon, seasonings , garlic and morels last to finish up...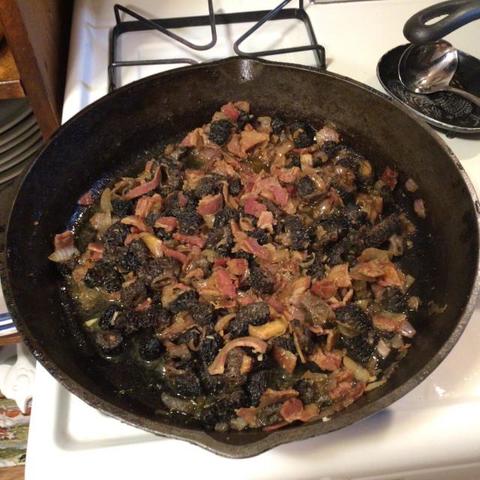 Cream of shroom improvisation ... biscuit mix, buttah, can milk, bowl of beanie and morel juice. The pan in back is my Hungarian venison stew...another dish entirely ....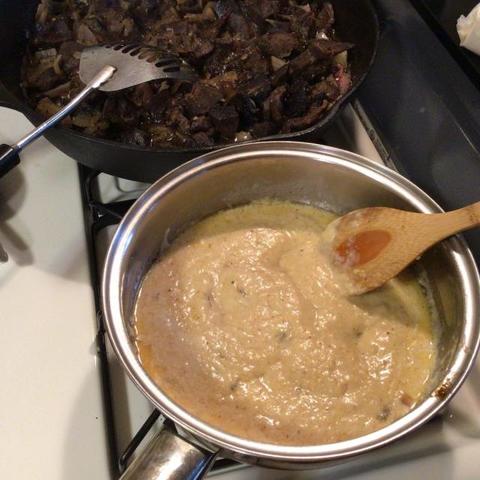 Mix into beanies and ready to bake ! Put cheese on top if desired after baking is finished.
Good food and life lived well....see you on the surface