Posted By: Sharon
What's Fah Dinnah ? -

05/13/22

08:12 PM
Well, a bit of an early dinnah....surf and turf stir-fry !
My new wok came in, hand forged like a fine Katana sword. Hand hammered high quality steel.
I decided to make a simple, easy meal, except for the noodles . I like reading the properties of Shirataki Noodles , so I got a pack.
I prepared those first, as directions say to rinse them in water a couple of minutes and drain well , then boil them in water for a couple minutes more. They come in a liquid package, the rinsing and boiling gets rid of a particular aroma that comes with the preparations and packaging. In a hot , no oil wok, they sear just right , you can hear a specific squeak sound from them when they are done. Just as the videos tell they would. After searing , I put them in a bowl and got to work.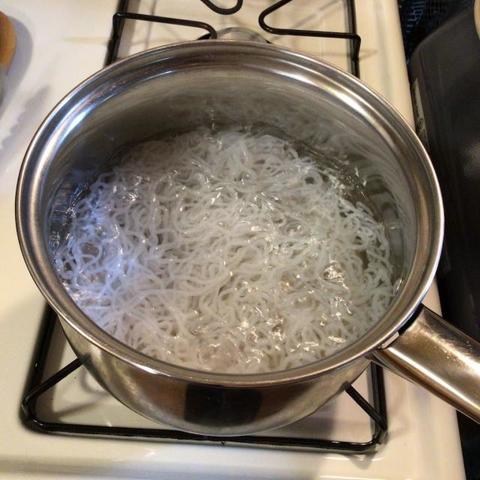 They are called White Waterfall, for their appearance. They stayed intact well during rinsing and boiling, though I was careful in handling them.
Just as Michael said, I cut the veggies and meats first and let sit to get to room temp, not cold.
Bell peppah, scallions, mushrooms, some gahlic, and bamboo shoots. Sliced shrimps
, and some decent Black and Gus steak I had pre cooked just a little.
Many thanks to Michael and SJA for their valuable advise and help ! Because of both of you, I was able to find these sauces . And, to my delight, I actually found the oyster sauce that the Thai chef loves in her cookbook , in comparing brands, she liked what she calls The Lady In the Boat the best. And, I found Hoisin, to take the place of corn starch for thickening binding agent. Thank you SJA !
Not knowing really just how much to add as I cooked, I was careful. I kept remembering the Thai lady in her cookbook saying it's ok to taste your cooking as you go-which I did !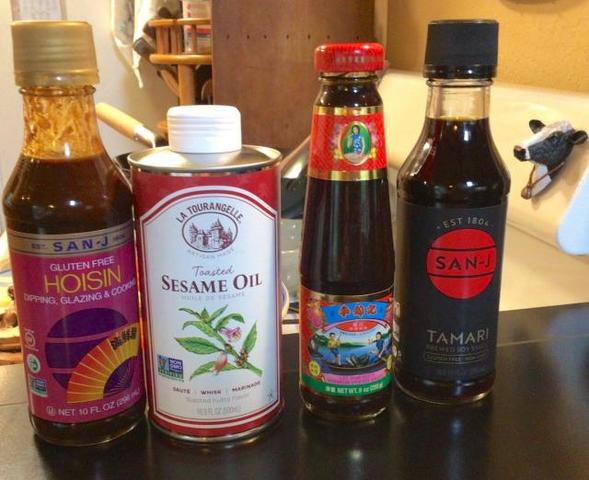 First, after a hot wok with sesame oil coating, I barely seared the shrimps and Black and Gus meat , with some gahlic, then put them aside in a bowl. Next, I quickly cooked the veggies , adding the sauces as I went along.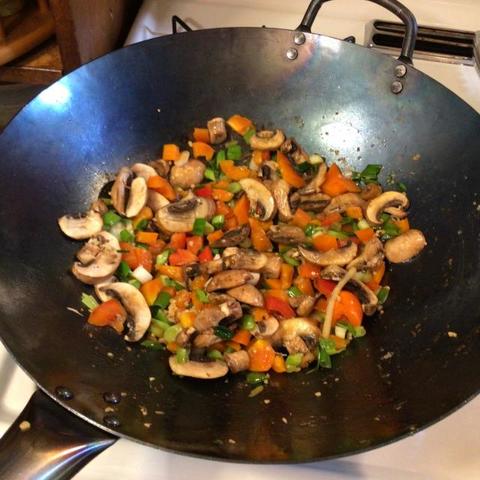 When those were done, I added the meat back in, seared a wee bit more, then added the Bamboo shoots last, and turned off the heat.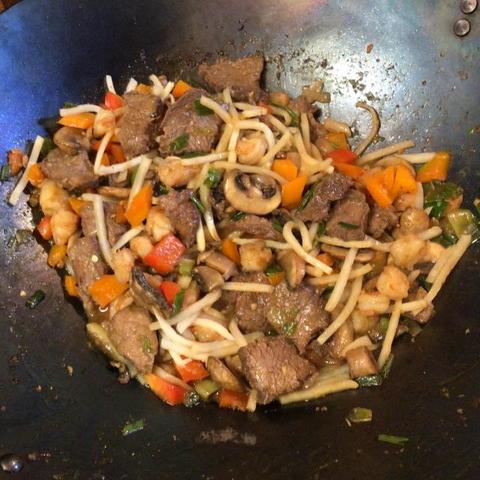 The pics don't show the steam as they sizzled, but they sure cooked fast.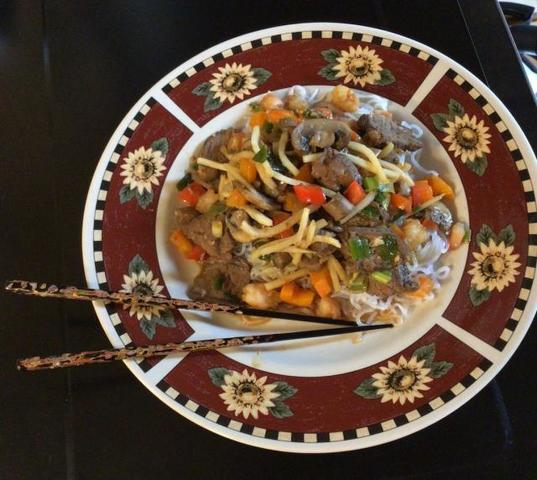 There is a saying, that to try a new recipe on someone else isn't a good idea. But I have been cooking long enough to pretty well see ahead of time if a new dinnah will be a success , just as I see the finished in my art before it is done.
It is delicious, with some leftovers to spare.
I can see many more dinnahs made with this wok, which will surely last me for life.
Hope y'all enjoy a great weekend and meals as well !