Posted By: Lazarus
Tips For Putting Up FEMALE cats (pictures) -

01/28/20

04:28 AM
Those pesky female bobcats! What to do with them?? You know, the sow belly, bare belly, stained belly variety. Can anything be done with or to them? Maybe. Here are some ideas.
First, once you catch a female cat, you have to make a decision whether to harvest that cat or not. After all, with a depressed cat market (at least for commercial grade cats), it may make some sense to let that female go to raise more kittens. But that's a decision each individual trapper has to make. I'm not going to impose my ideas on anyone else when it comes to this issue. I know a lot of trappers sort of feel self righteous about releasing females. More power to them. I know a lot of trappers that harvest everything they catch. More power to them. I can make persuasive arguments for or against both practices.
Assuming you've harvested the cat, roll her over on her back and see what you have to deal with. We can loosely categorize females into three groups: The lowest grade, which would include those with bare spots around their nipples where their nursing kittens have worn away the hair; those with brown milk/food stains and so forth. The second is the middle grade, which are those females that aren't bare or stained, but you can clearly detect where the nipples are and the hair has just naturally been partially bare in those areas. The third and last grade is the best grade. The cat has a clear belly, no visible damage and unless you rub your hand over the belly of the dried skin and feel the dried nipples, you wouldn't know it was a female. So lets see what we can do with each grade.
First, those brown stained cats. We probably aren't going to help these cats much. Any fur buyer worth his or her salt will know right away what they are dealing with and you're probably just wasting your time trying. Might as well take your lumps and move to something else you can add value to in the fur shed. Here is an example of a cat like this (although not an extreme example).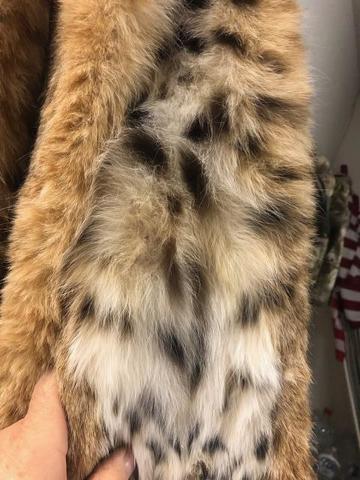 Notice the brown stains, the discolored areas and the general absence of meaningful fur in the belly area.
OK, lets hurry and leave those cats behind and get to the middle grade. Here we can probably improve the appearance of the cat and although what I'm about to show you might not push you into a higher grade of fur, you might not get dinged as bad as if you just left the cat alone. Some trappers advocate using a razor and cutting out the nipples and then sewing the hole up with dental floss or fine white thread. I've seen some pretty convincing jobs in this department but it takes a great deal of time, patience and a certain talent in the manual dexterity department. Here's another suggestion. I learned this from one of my fellow Nevada trappers so I can't take the credit. Its quick, simple and doesn't involve cutting the pelt.
First, this only works on those middle grade or better cats. Here is such a cat: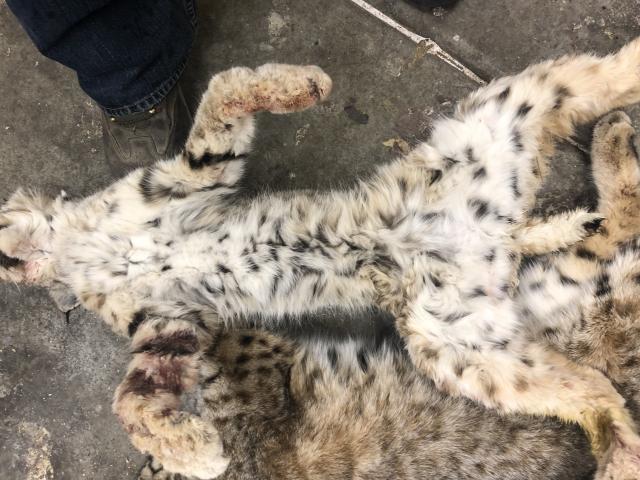 I usually only worry about the "bottom" 4 nipples. That is, the four nipples closest to the tail. These usually get the most use, and are the most noticeable. Find one of these nipples like so: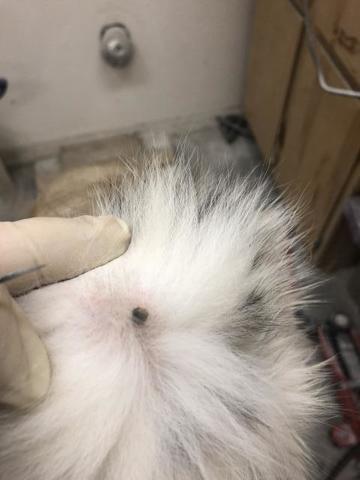 Now, take a sharp needle and load it with some fine white thread or dental floss. Make sure you tie a good knot in the end. You are going to poke the needle into the nipple from the fur side, and run the needle all the way through so it comes out the skin side.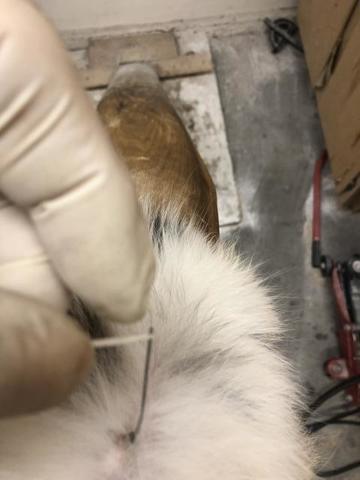 Pull the needle all the way through and invert the nipple.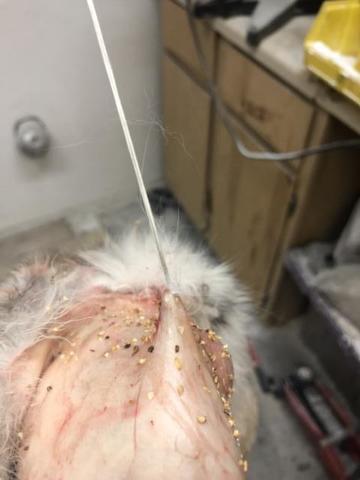 Now keep tension on your needle and thread, and get another small piece of thread or floss, and dally around the nipple on the flesh side.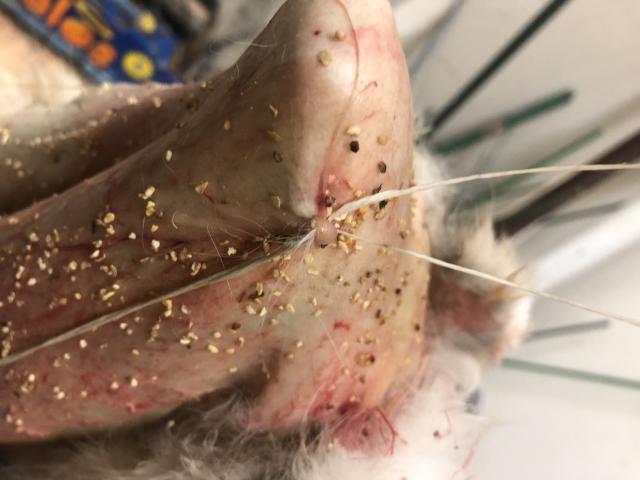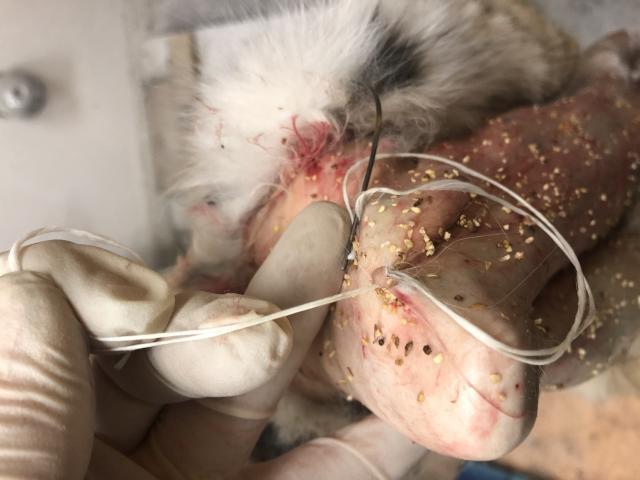 For you easterners, dally means to wrap around. :-)
Now tie a couple of overhand knots in your wrapping thread/floss, and snip off the thread you used to invert the nipple. Snip off the extra thread or floss from the piece you used to dally with. The idea is that you inverted the nipple, then tied it off while it was inverted. When you reverse the skin and look at the hair side, the nipple has disappeared. No sewing, no cutting, no damage to the skin.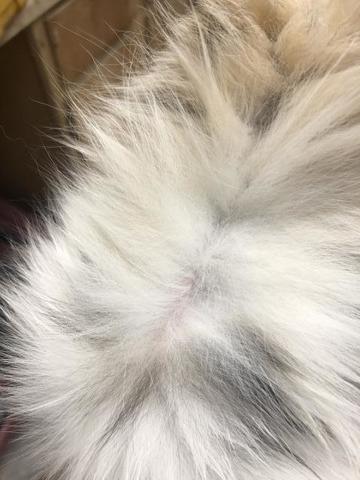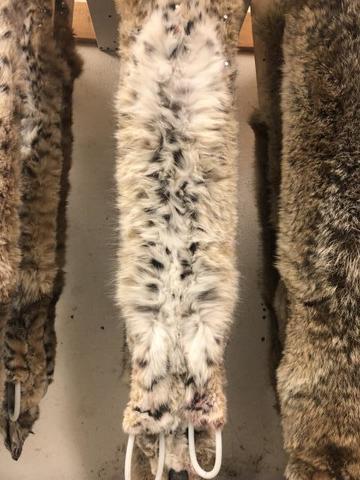 There you have it. The cat in the last picture is the same cat as the one lying on its back above. You can't tell it has nipples and there are no bare spots on its belly. Mixed in with a group of average Tom cats, it will blend right in.
You can also take some simpler steps to help the grade on your female cats. One easy idea is that after the cat is thoroughly dried, take your thumbnail and scrape off the dried nipples on the fur side of the skin. Often a buyer will rub the belly with their hand and if they feel those protruding dry nipples, they will often downgrade the cat or at least start looking more closely at it.
Also, before you sell your fur, give them a good Borax bath. Put the cats in a shallow trough or cardboard box and pour Borax on the fur right out of the box. Rub the Borax into the fur and massage it back and forth a bit. Then tap the skin several times to shake the Borax back into your trough or box. Now take your air hose and blow out any evidence of the Borax. Your cat hair will look polished and shiny, and the Borax will help remove grease and oil.
Try these little tips and see if they work for you. Good luck and happy trapping.