Posted By: HFT AK
HFT_AK Journal -

09/17/20

07:43 PM
Hope this finds everyone doing well

Health wise I am doing pretty good, still have issues but am grateful for what I got and have been taking advantage of every moment of being alive

Had a pretty busy spring, summer, and fall harvesting critters and fish Spent a lot of time with a few Tman members, Ted aktrpr up in TOK, Tim wolverine hunter down in Homer, and Matt here in Wasilla.
I had never gone hooligan dip netting. Matt gave me a call and said they were in on 20 Mile down by Girdwood so we made run down there. We ended up filling a cooler

I tried smoking them, a little salty but good. Got a few gallons for trapping bait but the best use I found was for the halibut! Those jokers loved them! A herring tipped with a hooligan worked very well for me.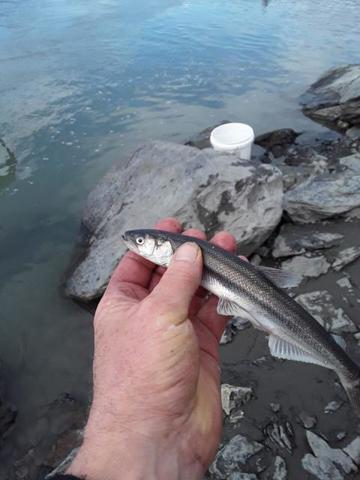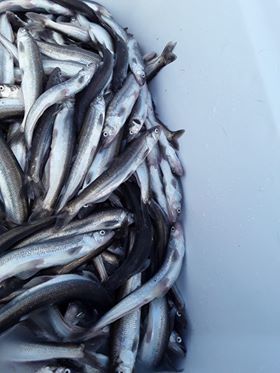 Matt also went out and helped me blaze a trail to a new bear bait location and get set up. Not much action this year, a few blackies on camera and a brown sow with cubs, It always amazes me how those dang brownies can wipe out a barrel so quick! I did harvest a nice blackie.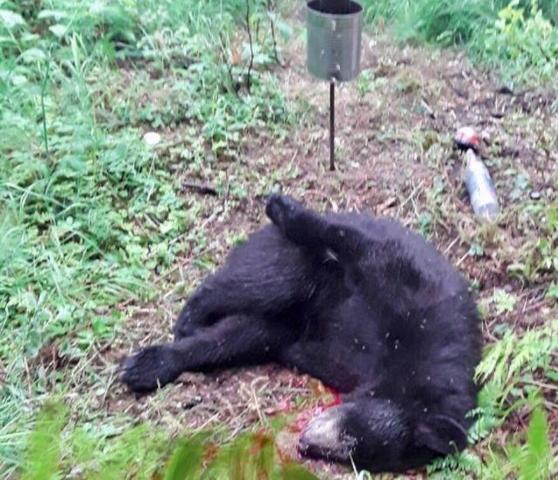 Did a little King fishing with the daughter and a bunch of friends. This year it was about them connecting not so much me. The quite times out on the river the company, the conversations all created some pretty good memories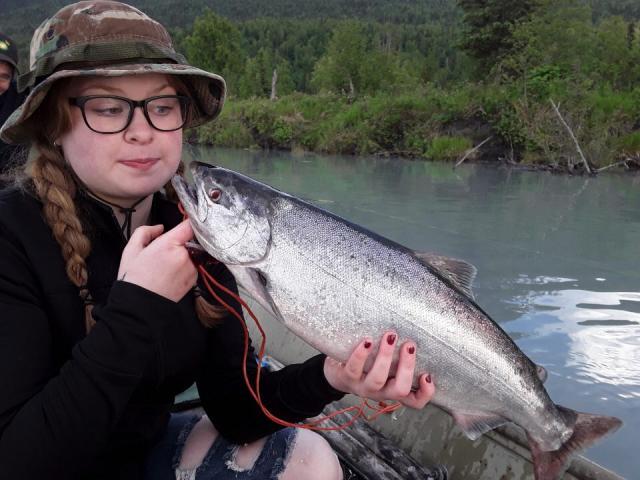 Went up to TOK a few times and spent time with Ted and we did a few adventures

He has a pretty nice boat and we went down to Valdez twice to do a little shrimping and halibut fishing, I had never been down there and it is a very pretty different place to fixh compared to Homer or Seward. We caught a bunch of fish but only a few shrimp. The coolest thing happen one morning, Sitting there in the bay in the early morning drinking my Mountain Dew, watching the sun come up, I heard a buzzing sound coming at me. It took me a second to realize that what I was hearing and then seeing was a humming bird! Stopped three feet in front of me, turned around and buzzed back to the shore line.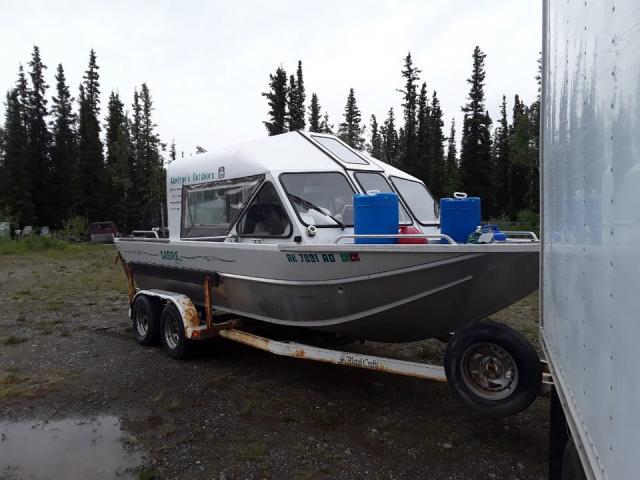 He took me to his fish wheel, that was pretty cool to see. Sitting there watching and waiting for it to scoop up a fish you turn your attention away for 5 seconds and there would be a fish

Never did see it scoop one up but when we left we had 25 reds

Helped him put in a platform for his bug tent at the site.
He ran me out to Mansfield lake one day and we did a little pike fishing, I caught a bunch of dinks and he ended up getting two nice ones, One thing is for sure that man knows how to fish

I went up there the first week of moose season Different terrain and a different style of moose hunting. We saw a bunch of cows but it was just to dang hot and the bugs were something fierce! He ended up getting on the second season and is hoping to get his grandson on one this week.
I spent a lot of time talking to him in his trap shed

Picking his brain on the kitties, his style and methods of trapping up there, He has quit the store with a lot of quality products and lures

Our next adventure is suppose to be chasing ducks together after moose season

So after leaving Ted's I came home and had a friend that really wanted to go out and get a moose, They were coming up on Friday so I went out and set camp up on Thursday. So I got camp set about 3, took a nap, got up at 5 and figured I better go poke around and find were the moose were, As I was sitting there putting my waders on I looked down river and sure enough there was a moose! I closed the gap to about 250 yards and was sanding there looking at it trying to see if it was a bull or a cow, When it dropped its head to get a drink of water I could see that it was a young spike

For a moment I thought about the trip I had planned with Ted the following week and the opportunity to get a toad or filling the freezer, well I am not one to look a gift horse in the mouth and the freezer is full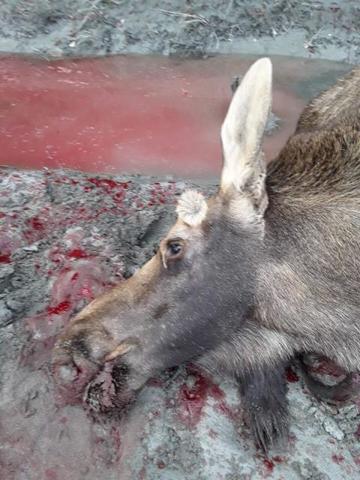 I have always loved chasing cranes, rib eye of the sky

Then I got a call from Tim down in Homer. He had drawn a goat tag for a unit down there and asked if I would come down and if the opportunity presented itself help him go after his goat, if not the we would chase bears and ducks. Well the first evening we cruised out to glass the side of the mountain we didn't see anything, but I did pick up a little dink of a blackie

The next morning we cruised out there again and saw nothing, I ended up getting two more blackies! I have never seen so many freaking bears in one area in all my life, In he alpine, in the tidal flats, right on the freaking shore line! It was pretty amazing, Then add in all the wildlife we saw, sea otters, walrus, seals, star fish, He took me up into one drainage and I have never seen so many humpies in my life!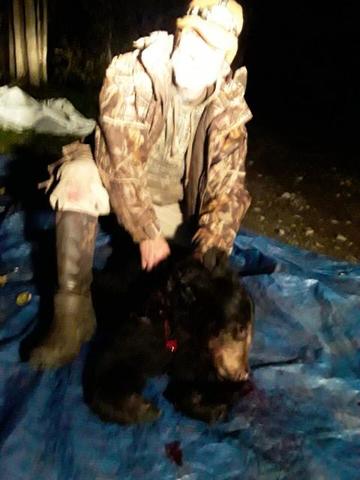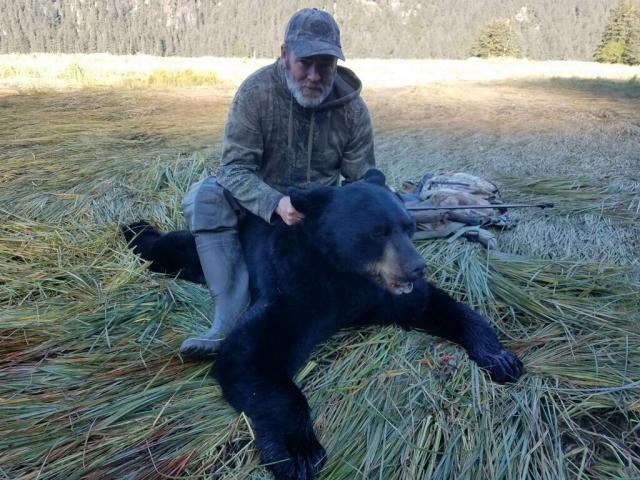 The next morning we got up and planned on chasing ducks if there were no goats, sure enough no goats but plenty of ducks

We ended up getting a bunch of mergansers and I got my very first Harlequin!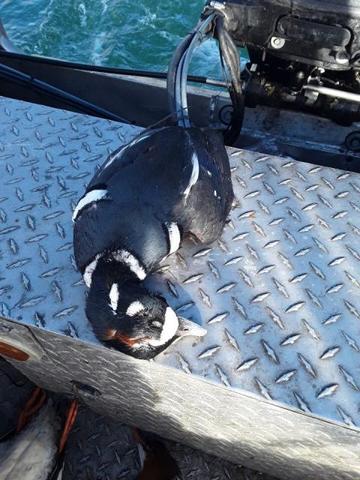 The following day we stayed in and I helped him on the honey do list. As we finished up for the day he puled out his spotting scope and from his deck we were able to glass the basin that we have been looking at we didn't see anything and you could see that he was getting bummed. I mean after 20 days of looking and three trips up that mountain I would be bummed to that a opportunity didn't present itself.
Well he went in to grab a shower and I started looking again, sure enough I picked out two small white dots! Not knowing if they were those famous goat rocks or not I waited about ten minutes and looked again, sure enough they had moved!
I was planning on leaving the next day but I told Tim that fortune favors the bold and lets go get his goat!
I will never ever go goat hunting again in my life!

That mountain totally kicked my butt!
Was very proud of myself for making it to the top, that mental and physical challenge after all I have been through was a pretty dang good feeling

We ended up getting on a goat and he connected

The climb down took a little longer then what we expected but at the end of the day he accomplished a dream

Happy to be part of it.
Have one more hunt planned, taking Tim, the daughter and her boyfriend out to moose camp this week to chase the moose and brownies. Then it is on to beavers!
Be safe out there!