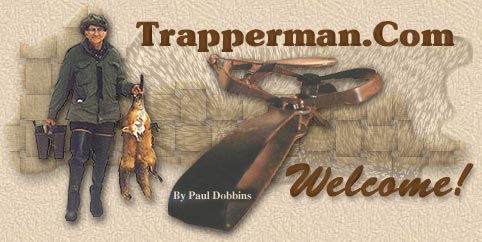 Mira's Nuggets
Home ~ Mission Statement ~ Trap Talk ~ ADC Forum ~ Trap Shed ~ Fur Handling
Trapper Tips ~ Links ~ Gallery ~ Basic Sets ~ Convention Calendar ~ Trapper's Humor
Fur Buyers Directory ~ Trapper's Tales ~ Words From The Past ~ Legends ~ Archives
~Catalog~
Cops only arrest the innocent & Peacful???

#2103532


08/14/10

06:39 AM

08/14/10

06:39 AM

Joined:

Sep 2007


Posts: 2,725
Cape Breton Island Nova Scotia Mira Trapper

OP




trapper

OP


trapper

Joined:

Sep 2007


Posts: 2,725
Cape Breton Island Nova Scotia

Justice for Activists (Blog

Free Bryan

http://justiceforactivists/free-bryan/

On July 28th, 2010, animal activist Bryan Monell was arrested at a

circus demo in Anaheim CA, as he innocently and peacefully protested

the circus. During the arrest Bryan sustained major injuries that sent

him to the hospital and required medical care.

My Bull Crap meter just hit full reading the garbage justice for activists released. Apparently the cops arrest the innocent & then hospitalize them before going to court??

His case in ongoing so details will not be posted to protect the

security of his legal case. What is public information is that Bryan

is currently out of jail on a $5,000 bail. Bryan potentially faces

years in prison. He is loved by his friends, has the support of every

activist who did see what happened that day, and is an asset to this

movement.

If he is to face years in prison it would seem he didn't seem all that innocent or peaceful to police!!

Bryan's legal fees are mounting and will continue to grow. His only

hope is a solid defense. Please support Bryan Monell in this time of

need.

CASE UPDATES

Bryan's arraignment is currently scheduled for September 15, 2010 at

8:30 a.m. at the Superior Court of Orange County: North Justice

Center, located at:

1275 North Berkeley Avenue, Fullerton, CA 92832

Court support is always welcome. Please dress appropriately. Either

business attire or purchase a Free Bryan shirt (see bottom of page for

details).

OUR FRIEND BRYAN

"I learned more about animal rights from my childhood best friend and

dog Sam than all the AR books (and I've read a ton of them)." ~Bryan

Monell

Bryan Monell is one of the most committed and determined activists the

AR movement has. He has dedicated his adult life to animal rights and

other social justice causes by participating in protests, organizing

benefits, and speaking to media outlets on the movement's behalf. One

of the most selfless things Bryan has done is to go undercover to

capture footage of the heinous cruelty that occurs in animal

enterprises.

Risking his personal safety, Bryan has documented animal cruelty in a

large number of undercover investigations. The undercover footage he

has captured has changed many laws and made many people become vegan.

Footage form his investigations is featured in Dealing Dogs,

Earthlings, and Meet Your Meat. His amazing undercover work includes:

• several circuses as an elephant groom (footage of these

investigations is in the video above)

• as a live hanger at a chicken slaughterhouse;

• undercover at a pig farrowing plant;

• at countless puppy-mills all over the country,

• documenting almost all of the B dealers selling to labs;

• investigated Premarin and horse-slaughter plants in the U.S. and

Canada rescued horses from a killer buyer in PA;

• documenting the cruelty to crustaceans as a live crab cooker.

Bryan has attended and/or organized well over 500 demos, including pet

stores, circuses, Fur Free Friday, World Week for Laboratory Animal

Liberation, lobster, foi gras, rodeo, McDonald's, KFC, and more. His

activism has taken him around the globe, to Mexico, Japan and Greece.

He has worked and volunteered at several humane societies around the

country, worked as a veterinary technician, worked at two National

animal rights groups, as well as on behalf of several grass roots

groups in the U.S. and Canada. Bryan was the president of his college

animal rights club, and taught ecology courses to children.

Rescuing animals is also a part of Bryan's work. He rescued harbor

seals and elephant seals as a member of the Humboldt Marine Mammal

Rescue team. Personally, he has also rescued countless dogs, cats,

chickens, fish, turkeys, seals, and sea lions. Bryan was one of the

first people in the group allowed to enter St. Bernard's Parish in

Louisiana after Hurricane Katrina to rescue animals.

His work and activism is also multi-issue; he was the Director of

Recreation for a set of group homes in Oregon for developmentally

disabled adults, involved in anti-Iraq War protests and has done jail

support for other activists over the years.

Bryan has a voice that speaks eloquently for our movement and on

behalf of animals. He has spoken at various City Councils, spoken at

the national AR Conference in 2010, testified before the Rhode Island

House of Representatives on the circus, and has been interviewed on

CBS, ABC, BBC, CBC, and NPR.

Bryan has done so much for animals in his time as an activist and

continues to labor selflessly for the cause. Please support Bryan to

insure that he can remain free to do what he does best, especially

since his work is integral to the freedom of so many others.

---

Mac Leod Motto
Re: Cops only arrest the innocent & Peacful???

[Re: Mira Trapper] #2103535


08/14/10

06:45 AM

08/14/10

06:45 AM

Joined:

Dec 2008


Posts: 326
Central MA. Jeff270


trapper


trapper

Joined:

Dec 2008


Posts: 326
Central MA.

• documenting the cruelty to crustaceans as a live crab cooker.

You couldn't make this stuff up! Oh the humanity!

FREE SPONGEBOB NOW
Re: Cops only arrest the innocent & Peacful???

[Re: Mira Trapper] #2103550


08/14/10

07:29 AM

08/14/10

07:29 AM




Bob Samuelson




Unregistered

Bob Samuelson


Unregistered





Is it only me, but having the time to do all that "investigating", he can't have a real job! Where does he get money to live? He must have bills of some type that need paying! Obviously another "mooch" on the system!

Only a hunch, but I bet the guy has no demonstrative job skills!
Re: Cops only arrest the innocent & Peacful???

[Re: ] #2103555


08/14/10

07:33 AM

08/14/10

07:33 AM

Joined:

Sep 2007


Posts: 2,725
Cape Breton Island Nova Scotia Mira Trapper

OP




trapper

OP


trapper

Joined:

Sep 2007


Posts: 2,725
Cape Breton Island Nova Scotia

He has a great aptitude for convincing loons that he is an innocent & peaceful man. Over the next 20 years he most likely will be having a hard job behind bars convincing his peers that he is such a man. They will laugh at him and say, "Yup, we are all innocent."

---

Mac Leod Motto
Re: Cops only arrest the innocent & Peacful???

[Re: ] #2103558


08/14/10

07:40 AM

08/14/10

07:40 AM

Joined:

Aug 2008


Posts: 1,947
st. lawrence county ny CLT


trapper


trapper

Joined:

Aug 2008


Posts: 1,947
st. lawrence county ny

Bob,the same way he will pay for his legal defense,donations from AR lemmings.It is funny,anybody else that gets arrested the details are in the paper the next day.Cops just don't beat-up people in front of crowds for no reason.If he got injured he was resisting/fighting.It is good to see that these people are getting arrested and prosecuted for their activities.These people are scary,anti-capitalist=BAD PEOPLE...
Their ideology trumps common sense.

I like that,FREE SPONGEBOB LOL.....

---