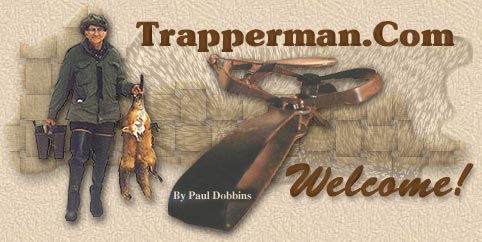 Craft Sales Forum

Home
~
Trap Talk
~
ADC Forum
~
Trap Shed
~
Wilderness Trapping
~
Trapperman.com Live
Trap Chat
~
Auction Forum
~
Trapper Tips
~
Links
~
Gallery
~
Basic Sets
~
Convention Calendar
Photo Gallery
~
Trapper's Humor
~
Strictly Trapping
~
Fur Buyers Directory
~
Mugshots
Trapper's Tales
~
Words From The Past
~
Legends
~
Archives
~
Kids Forum
~Catalog~
Craft Sales Rules
1. All posts made for selling must contain the asking price for the item.
2. It's the sellers responsibility to define clearly how payments are to be made, including shipping costs.
3. Trapperman.com is not responsible for transactions made on this forum.
4. A maximum of ten items per post will be allowed, but anyone can make more than one post.
5. A post may only be brought to the top purposely three times, and will be locked after the third time. Once a post has been locked, it will remain on the forum, but cannot be put back on the forum in the form of a new post for two weeks.
Jewelry Items Made From Critter Parts

#4670340


10/01/14

10:11 PM

10/01/14

10:11 PM

Joined:

Dec 2013


Posts: 362
VA FirstTimer266

OP




trapper

OP


trapper

Joined:

Dec 2013


Posts: 362
VA

Here are a few things that I made with parts I saved from my first year trapping. I have them on and Etsy shop online (shop name OutdoorsmanCreations), but I figured I would throw them on here in case anyone may be interested. Great present for a trappers wife/GF! All items are plus $2.49 shipping. Thanks for browsing.

Fox Claw Earrings w/ turquoise howlite beads $8

Fox Claw Earrings w/ Rainforest Jasper beads $8 (Have a variety of jasper, jade, tigers eye beads as well)

Beaver teeth/claw necklace w/ Buffalo bone hairpipe beads $25 (Can make with different beads as well)

Lynx Claw Necklace w/ bone hairpipe and Rainforest jasper beads $25

Beaver Teeth only Necklace w/ 2 types of hairpipe beads $25

Turkey Feather Earrings w/ engraved deer antler and Picture Jasper beads $20

Deer Antler w/ beads on leather cord $10

Mallard Drake Curly Feather Earrings $8

Thanks for checking out my stuff! Any special request are welcome and I will try my best to accommodate!
Re: Jewelry Items Made From Critter Parts

[Re: FirstTimer266] #4699475


10/21/14

06:47 PM

10/21/14

06:47 PM

Joined:

Aug 2009


Posts: 1,096
Chambers, NE conibearguy


trapper


trapper

Joined:

Aug 2009


Posts: 1,096
Chambers, NE

Seriously some of the most beautiful pieces I've seen.

---

I buy squirrel tails.
Also interested in wings from different species for dog training (grouse, quail, etc)