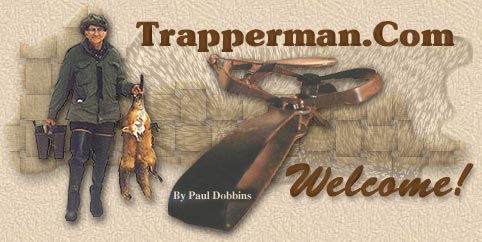 Craft Sales Forum

Home
~
Trap Talk
~
ADC Forum
~
Trap Shed
~
Wilderness Trapping
~
Trapperman.com Live
Trap Chat
~
Auction Forum
~
Trapper Tips
~
Links
~
Gallery
~
Basic Sets
~
Convention Calendar
Photo Gallery
~
Trapper's Humor
~
Strictly Trapping
~
Fur Buyers Directory
~
Mugshots
Trapper's Tales
~
Words From The Past
~
Legends
~
Archives
~
Kids Forum
~Catalog~
Craft Sales Rules
1. All posts made for selling must contain the asking price for the item.
2. It's the sellers responsibility to define clearly how payments are to be made, including shipping costs.
3. Trapperman.com is not responsible for transactions made on this forum.
4. A maximum of ten items per post will be allowed, but anyone can make more than one post.
5. A post may only be brought to the top purposely three times, and will be locked after the third time. Once a post has been locked, it will remain on the forum, but cannot be put back on the forum in the form of a new post for two weeks.
Buckskin and Elk -Leather-Bead & Bone

#5408904


02/09/16

04:28 PM

02/09/16

04:28 PM

Joined:

Dec 2006


Posts: 42,496
Minnesota 330-Trapper

OP




trapper

OP


trapper

Joined:

Dec 2006


Posts: 42,496
Minnesota

Handmade Items each one a individual piece. Items on hand Or I will make a Special piece in your Colors.Pm me if Interested

Medicine Pouche's Deer and Elk all Glass Beads $45 deer and $48 Elk ... Add Black Bear Claw or Bison Tooth add $12

Elk- white done in Blue Glass "Chief" Beads $48

Natural Buckskin Beaded Medicine Pouch Black and Red Glass $45

Elk Skin Possible Pouche' Beaded with Glass Crow Beads $68

Golden Buckskin Glass Beaded pouch with Black Bear Claw $57

Bison Hornpipe Breastplate with bone centers/Glass Crow Beads and Brass $550

Close up of Bison Hornpipe Breastplate

Soft Dance Neckpiece...

Bone Breastplate With Leather-Crow Glass and Brass/Nickle Beads $550.00

Tea dyed Bone Hornpipe Close Up

Please PM me if you are interested in anything I have listed
I Do and will take Custom Colored orders if I have or can get the Beads.

Additional Buffalo Teeth or Black Bear Claws may be added $12 per.

Shipping would be extra.
Re: Buckskin and Elk -Leather-Bead & Bone

[Re: 330-Trapper] #6775378


02/18/20

07:14 PM

02/18/20

07:14 PM

Joined:

Dec 2006


Posts: 42,496
Minnesota 330-Trapper

OP




trapper

OP


trapper

Joined:

Dec 2006


Posts: 42,496
Minnesota

---

NRA and NTA Life Member
www.BackroadsRevised@etsy.com