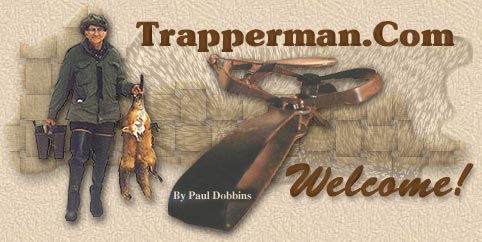 Wildcrafting
No Profanity *** No Flaming *** No Advertising *** No Anti Trappers *** No Politics
Home
~
Trap Talk
~
ADC Forum
~
Trap Shed
~
Wilderness Trapping
~
Trapperman.com Live
Trap Chat
~
Auction Forum
~
Trapper Tips
~
Links
~
Gallery
~
Basic Sets
~
Convention Calendar
Photo Gallery
~
Trapper's Humor
~
Strictly Trapping
~
Fur Buyers Directory
~
Mugshots
~
Wildcrafting
Trapper's Tales
~
Words From The Past
~
Legends
~
Archives
~
Kids Forum
~
Lure Formulator Forum
~~~ Dobbins' Products Catalog ~~~
Habitat Diminution and Destruction

#6237215


05/10/18

09:43 AM

05/10/18

09:43 AM

Joined:

Mar 2018


Posts: 19
Brooklyn NY Pa Bro

OP




trapper

OP


trapper

Joined:

Mar 2018


Posts: 19
Brooklyn NY

The query and response below originally were sent as private messages (PM), but their subject is so central and so crucial to trappers and wildcrafters, that it seems appropriate, perhaps even useful, to make them "public" to other members of Trapperman.Com.

The correspondent whose name is withheld, is a longtime member of Trapperman.Com, an important contributor to its wildcrafting forum, and to its trapper forums as well.


The query:

Hello [Name Withheld],

Thank you for your interest and reply.

I looked closely at the google satellite view of [your county] and adjoining counties and noted the scarcity of forest and near absence of native prairie. Most of the land is given over to cultivation, monoculture, and the application of agricultural chemicals to crops. Not much remains of the "Nature's or God's Garden" that blanketed the area two hundred years ago. The region no longer appears a suitable source of medicinal wild plants, although surely some still grow there.

Yet, this bird's-eye impression is belied by your admirable series of photographs of medicinal wild plants of your area, and of the wooded ravines or former prairie remnants in which most of them grow. You posted photos of bloodroot, cranesbill, Joe Pye weed, cinquefoil, dogbane, wild indigo, ginseng, new jersey tea, pleurisy root, catnip, purple coneflower, missouri snakeroot, bouncing bet, hydrangea, Canadian hemp, culvers root, wild yam, blue vervain, button snakeroot, germander, flowering spurge, staghorn sumac, sweet flag, wild cherry, lespedza, and white baneberry. In addition, I am aware of many others that are harvested in your area.

How is it possible to reconcile the contrast between the view from above, and the facts on the ground established by your photographs, as both clearly are true? What is your take on this question?

I do have a long list of wanted medicinal plants, more reflective of the forested northeast and upper south than of the open country of the midwest, but still extensively applicable to the midwest.

Hope to hear from you,

Paul Broaddus



The response:

paul.....you are 100% correct about the cultivation .....fields all around.....however...i'm still lucky that there are a few pockets of remaning timber......and some prarie remnants.sometimes I do go to other counties as well . I don't get huge amounts of certain plants like I used to ,,,,because those habitats are totally gone now.



The conclusion:

Every trapper and every wildcrafter faces this problem every day. Habitat diminution and destruction is an ongoing fact.

No trapper or wildcrafter alone is able to achieve much for the preservation of wild animals and wild plants and their habitats.

But Trapperman.Com has thousands, perhaps tens of thousands, of members.

Trapperman.Com is a special interest group. As such, as an organized group, it has a latent power to influence and persuade others. As a special interest group, it can promote preservation of wild animals and wild plants and their habitats, and the sustainable harvesting of them. It can influence and persuade others to set aside, protect, and upgrade wild habitat, and access to it, on both private and public lands. It is my conviction that this sort of gentle pressure, nonconfrontational, person to person, exerted over time, can achieve wonders on local, county, and state levels, all across the eastern half of the United States, where most Trapperman members live, and in the western half of the country, too. After all, almost everyone loves wilderness, and wants wild animals and plants to flourish. Many, perhaps most, can be persuaded that wild habitat preservation is compatible with, and even can contribute to, economic interest.

A "Habitat Preservation" Forum could be set up where interested members could explore this problem and these possibilities.

What do you all think about this?


Last edited by Pa Bro;

05/10/18

09:54 AM

.
Re: Habitat Diminution and Destruction

[Re: Pa Bro] #6258160


06/11/18

06:58 PM

06/11/18

06:58 PM

Joined:

Dec 2013


Posts: 516
southern Illinois kickingbird


trapper


trapper

Joined:

Dec 2013


Posts: 516
southern Illinois

Long overdue ! Agree 1000% It will only get worse unless we all get more active!

---

It ain't easy being easy