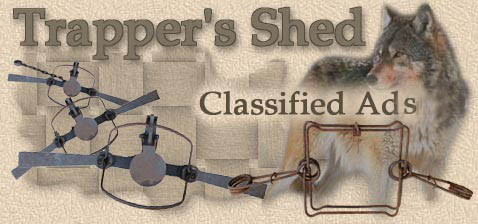 No Profanity *** No Flaming *** No Advertising *** No Anti Trappers *** No Politics
No Non-Target Catches *** No Links to Anti-trapping Sites *** No Avoiding Profanity Filter
Home
~
Trap Talk
~
ADC Forum
~
Trap Shed
~
Wilderness Trapping
~
International Trappers
~
Fur Handling
Auction Forum
~
Trapper Tips
~
Links
~
Gallery
~
Basic Sets
~
Convention Calendar
~
Chat
~
Trap Collecting Forum
Trapper's Humor
~
Strictly Trapping
~
Fur Buyers Directory
~
Mugshots
~
Fur Sale Directory
~
Wildcrafting
Trapper's Tales
~
Words From The Past
~
Legends
~
Archives
~
Kids Forum
~
Lure Formulators Forum
~~~ Dobbins' Products Catalog ~~~
Trap Shed Rules
1. All posts made for selling must contain the asking price for the item - this is not Ebay.
2. No electronic media (videos, dvds, audios) will be sold or traded on this forum.
3. Trapperman.com is not responsible for transactions made at this site.
4. This page is intended for the sale, trade or purchase of used trapping equipment and not a place to sell new items, or stuff you manufacture.
5. No Begging for free stuff
6. A post may only be brought to the top purposely three times, and will be locked after the third time. Once a post has been locked or deleted, it cannot be put back on the forum for one month.
7. Make it clear what you wish in the title, not just WTT or WTB
8. The only reply allowed on each thread is a reply by the post initiator. All questions and communications will be done by PMs only. If PMs aren't answered in a timely manner, the poster will be banned from using the Trap Shed. (Exception to Rule #8 - A reply is allowed by a person who sends payment. Once payment sent is posted, the post will be locked.)
9. Except for muzzleloaders, no Guns, or ammunition will be bought/sold/traded on this forum.
10. You are limited to three active threads at any one time for selling/trading/buying items. All posts older than 1 month with no activity will be locked
RefrigiWear Coveralls -SOLD

#7725890


11/24/22

10:07 AM

11/24/22

10:07 AM

Joined:

Jan 2012


Posts: 926
PA panaxman

OP




trapper

OP


trapper

Joined:

Jan 2012


Posts: 926
PA

New Iron Tuff -50 cold weather coveralls by RefrigiWear size Large. These are NEW with tags gift from my EX years ago. Too warm in SE PA to ever use these. You guys up North have more snow and cold than I do.

Retails for 250.00 check them out on line.

Good gift for someone.

From RefrigiWear: Comfort and warmth all over. That's what you get with winter coveralls from RefrigiWear. These aren't your everyday, run-of-the mill men's coveralls. Our coveralls mean head to foot protection. They mean toughness that lasts. They mean cold weather work gear you can rely on day after day after day. You won't find insulated coveralls like this anywhere else. We started making -50°F freezer suits in the 50s and we've only gotten better since. Your 10 hour shift in a subzero freezer is no match for our coveralls. Want to spend the weekend on the ice with a -30°F wind-chill? No problem. We've got you covered no matter the conditions, no matter the job. Nothing will keep you warmer on the job or out in the cold. Pair our coveralls with a face mask or choose our insulated coveralls with hood and stay protected. Complete protection, supreme durability and all-over warmth come with every pair of RefrigiWear Coveralls.

175.00 Shipped

Last edited by panaxman;

11/28/22

06:30 PM

.
Re: RefrigiWear Coveralls - new

[Re: panaxman] #7726751


11/25/22

02:18 PM

11/25/22

02:18 PM

Joined:

Jan 2012


Posts: 926
PA panaxman

OP




trapper

OP


trapper

Joined:

Jan 2012


Posts: 926
PA