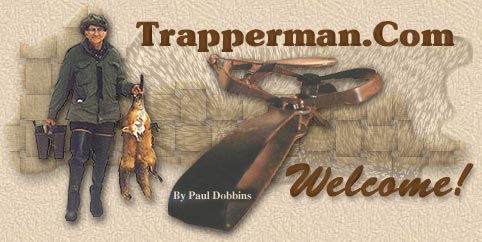 Craft Sales Forum

Home
~
Trap Talk
~
ADC Forum
~
Trap Shed
~
Wilderness Trapping
~
Trapperman.com Live
Trap Chat
~
Auction Forum
~
Trapper Tips
~
Links
~
Gallery
~
Basic Sets
~
Convention Calendar
Photo Gallery
~
Trapper's Humor
~
Strictly Trapping
~
Fur Buyers Directory
~
Mugshots
Trapper's Tales
~
Words From The Past
~
Legends
~
Archives
~
Kids Forum
~Catalog~
Craft Sales Rules
1. All posts made for selling must contain the asking price for the item.
2. It's the sellers responsibility to define clearly how payments are to be made, including shipping costs.
3. Trapperman.com is not responsible for transactions made on this forum.
4. A maximum of ten items per post will be allowed, but anyone can make more than one post.
5. A post may only be brought to the top purposely three times, and will be locked after the third time. Once a post has been locked, it will remain on the forum, but cannot be put back on the forum in the form of a new post for two weeks.
Custom Underhammer Muzzleloaders

#2805876


10/31/11

09:42 PM

10/31/11

09:42 PM

Joined:

Dec 2006


Posts: 4,912
Oregon TasteLikeChicken

OP




trapper

OP


trapper

Joined:

Dec 2006


Posts: 4,912
Oregon

I build Custom ML for a living. Thanks to Paul's Craft site I can put these up for your enjoyment.

I have an underhammer rifle available in your choice of two calibers and a 20g underhammer shotgun available

.

All are fully custom made and unfired.

T-man members….Take your pick…..of any ONE complete rifle or shotgun for 1000.00 plus shipping

. Normal price on these is 1150.00 plus shipping.

The Underhammer is one of my favorite hunting guns. They give the fastest, most dependable ignition possible as the fire from the nipple goes directly into the main powder charge. There are no twists or turns, drums or nipples to navigate. They are also very easy to clean.

First question that always comes up....do the caps fall off. NO.

Here's the last thing I took with my UH… with it's 62 caliber barrel assembly. A buffalo with round ball. One shot 87 yards.

Some Underhammer History

Some muzzleloader shooters have the mistaken idea that underhammers are not a traditional muzzleloader style. But, this is not the case.

There are rumors Benjamin Franklin had sketched a design for an underhammer flintlock.

But….concrete proof of age comes just a bit later. In 1807 Reverend Forsyth developed the first percussion cap prototypes.

By 1820…percussion caps as we know them were becoming common…and underhammers soon followed. Underhammers can be historically dated to the patents of Fordyce Ruggles. In 1826 he was granted a US patent for an underhammer pistol design. Fordyce and Adin, (his brother) set up shop in Hardwick, Massachusetts in December of 1825 and underhammers became firmly entrenched and very popular near those areas. While their initial main use was in pistols, it didn't take long for the UH action to be incorporated into long guns.

The innovative features, speed of ignition and simplicity of the underhammer, quickly lead to their adoption by the "bench rest" crowd of the day. There are historical examples of underhammer rifles that served as specialized, and highly effective, long range sniper rifles during the civil war.

Perhaps the greatest concentrations of underhammer users were found in the Northern Atlantic states of the US. But, due to their ruggedness and simplicity, they quickly spread and were used in any of the new "frontier" areas as US expansion occurred. One of the chief reasons for their use was their simplicity and strength. Also…should the "lock" mechanism become damaged a frontier blacksmith could repair, or completely build an action up from scratch. This was not the case with a flintlock or percussion gun, as most locks were still imported from Europe, most notably England, France and to a lesser degree Germany and Belgium.

Rifle Lower

The action is solid cast steel and as rugged as they come. I make these so you can change calibers by changing the forend/barrel assembly and keeping the action and stock. This takes just a few seconds. So….you can basically have any caliber you want to match your hunting requirements. I have built these in calibers from .32 up to a 4 bore (that's a 4oz round ball)

Trigger pull on this rifle lower is approximately 2-3/4 pounds as measured on a Lyman digital trigger pull scale.

I currently have a .45 caliber or .50 caliber upper available to fit this lower. All wood is from the same slab so it matches perfectly. If you want some other caliber, or want to add a different caliber….PM me about your wants and I can get you a price.

The wood in these two caliber choices and rifle lower is some very nice, fancy maple.

The wood is "special" in its history. It was salvaged from one of historic Reed college's 150 + year old trees that was taken down by a freezing rain storm, combined with high winds.

Irregardless of the history...it's beautiful wood!

The wood finish is my hand rubbed oil blend.

Metal finish is slow rust browning and extremely durable.

50 caliber

With the 50 caliber barrel assembly, the gun weighs approximately 7 pounds 4 ounces.

The barrel is a 7/8" across the flats and 32" long.

45 caliber

With the 45 caliber barrel assembly the gun weighs approximately 7 lbs 8ounces.

The barrel is a 15/16" across the flats and is 30" in length.

Rifle barrels are round ball rifled….but will shoot TC maxibullets well. The advantage of this is you can effectively "bump" up your kill power being able to shoot a heavier slug if needed.

This is ten shot target shot at 50 yards shot with open sights with the same make and twist of barrel. I did not adjust my sights from their round ball settings, or attempt to find a more accurate load.

20g Shotgun Lower with 20g "shotgun" upper assembly

Shotgun lower is no different than a rifle lower, except it has a recoil pad and is flat, as opposed to a semi-crescent rifle brass buttplate. Any UH rifle barrel assembly that I make can be added as an option. My own UH "rifle" is set up like this.

Shotgun Lower

The buttstock has a Pachmeyer Decelerator recoil pad.

Trigger pull on this lower is 1 pound 12 oz as measured on a Lyman digital trigger gauge.

Total weight of gun in 20g configuration is 6 pounds 11oz

The wood on this combo is a matched piece of some very uniquely figured maple.This piece has just about everything in it.

Barrel is 32" in length and is an octagon to round style with a wedding ring band. You can also shoot patched round ball with this if you so desire.

I include full instructions on cleaning, loads, sight in, etc with every gun.

If you want any questions answered or would like to see any other pictures of these guns….just let me know.

I ship fully insured by UPS with tracking number and crate all guns in a custom built wooden crate. Shipping is at your expense…the wooden crate is on me. Figure about 50 dollars for shipping.