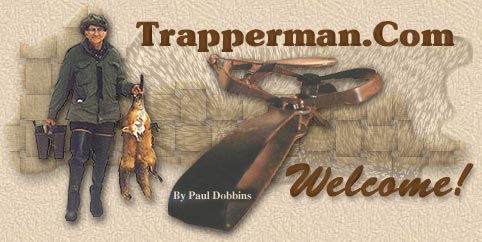 Craft Sales Forum

Home
~
Trap Talk
~
ADC Forum
~
Trap Shed
~
Wilderness Trapping
~
Trapperman.com Live
Trap Chat
~
Auction Forum
~
Trapper Tips
~
Links
~
Gallery
~
Basic Sets
~
Convention Calendar
Photo Gallery
~
Trapper's Humor
~
Strictly Trapping
~
Fur Buyers Directory
~
Mugshots
Trapper's Tales
~
Words From The Past
~
Legends
~
Archives
~
Kids Forum
~Catalog~
Craft Sales Rules
1. All posts made for selling must contain the asking price for the item.
2. It's the sellers responsibility to define clearly how payments are to be made, including shipping costs.
3. Trapperman.com is not responsible for transactions made on this forum.
4. A maximum of ten items per post will be allowed, but anyone can make more than one post.
5. A post may only be brought to the top purposely three times, and will be locked after the third time. Once a post has been locked, it will remain on the forum, but cannot be put back on the forum in the form of a new post for two weeks.
Custom Game Calls Trapperman Special Prices

#3429473


11/17/12

08:55 PM

11/17/12

08:55 PM

Joined:

Oct 2012


Posts: 106
Jeddo, MI put'n the dog on

OP




trapper

OP


trapper

Joined:

Oct 2012


Posts: 106
Jeddo, MI

I have some custom hand turned and hand tuned game calls for sale. All are made one at a time by me. Each one is a one of a kind, as I don't use a duplcator so each one will be a tad different in shape and sound. All have a lifetime warranty. If it breaks wears out etc. I will replace it as long as I am alive. All prices plus $3.50 to your door. Check or money order only. Can also be made from any wood,acrylic or corian combo of your choice.

Predator Calls

Open Reeds $20 Rabbit in distress, Howls,ki-yi's mouse squeek etc.

Cocobolo , Olive Wood , Splated Padouk , Grandillo with cayenne pepper inlay

Pink Ivory For the Ladies

Closed Reeds $10 These two are voice in a very raspy rabbit

Black palm and Mora , Corian and Mora

Woodpecker in distress $30

Apple and padouk

Deer Grunt

$45

Jobillo with cocobolo ends and ziricote band

Cow elk and crow calls also available. Goose and Duck calls coming soon.

Last edited by put'n the dog on;

11/19/12

11:12 AM

.
Re: Custom Game Calls Trapperman Special Prices

[Re: put'n the dog on] #3431519


11/18/12

11:16 PM

11/18/12

11:16 PM

Joined:

Aug 2009


Posts: 1,096
Chambers, NE conibearguy


trapper


trapper

Joined:

Aug 2009


Posts: 1,096
Chambers, NE

What kind of noises do they make?Rabbit in distress?Howling?

---

I buy squirrel tails.
Also interested in wings from different species for dog training (grouse, quail, etc)