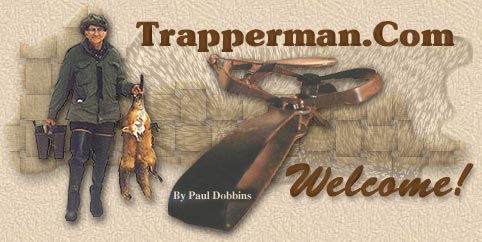 Craft Sales Forum

Home
~
Trap Talk
~
ADC Forum
~
Trap Shed
~
Wilderness Trapping
~
Trapperman.com Live
Trap Chat
~
Auction Forum
~
Trapper Tips
~
Links
~
Gallery
~
Basic Sets
~
Convention Calendar
Photo Gallery
~
Trapper's Humor
~
Strictly Trapping
~
Fur Buyers Directory
~
Mugshots
Trapper's Tales
~
Words From The Past
~
Legends
~
Archives
~
Kids Forum
~Catalog~
Craft Sales Rules
1. All posts made for selling must contain the asking price for the item.
2. It's the sellers responsibility to define clearly how payments are to be made, including shipping costs.
3. Trapperman.com is not responsible for transactions made on this forum.
4. A maximum of ten items per post will be allowed, but anyone can make more than one post.
5. A post may only be brought to the top purposely three times, and will be locked after the third time. Once a post has been locked, it will remain on the forum, but cannot be put back on the forum in the form of a new post for two weeks.
Christmas Gifts...North Bay Turkey Calls

#3479475


12/12/12

10:57 PM

12/12/12

10:57 PM

Joined:

Jan 2007


Posts: 345
NW Pennsylvania & North Maine Coulter

OP




trapper

OP


trapper

Joined:

Jan 2007


Posts: 345
NW Pennsylvania & North Maine

Last few turkey calls I have left from 2012, then I'll start moving on to the 2013 inventory. These calls

DO NOT

come with a striker as my usual calls do. I have discounted the price of the calls due to this fact. All prices include shipping to your door.

Note: Calls must be paid for and shipped by 12/18 in order to ensure arrival prior to Christmas.

Here is what we have...

Call 1

-

Foe

3" Bead Blasted Glass over Glass - Spalted Hormigo $35

Call 2

-

Missing Link

2.5" Slate (No soundboard, hence the "Missing Link") Great call for subtle close range calling - Bocote $30

Call 3

-

EarthQuaker

3.5" Slate over Glass - Black Walnut (matte finish) $30

Call 4

-

Anomaly

3.5" Crystal over Glass - Ambrosia Maple

SOLD

Acceptable payment methods include check / money order &

Thanks for looking,

Steve

Last edited by Coulter;

12/18/12

07:01 AM

.