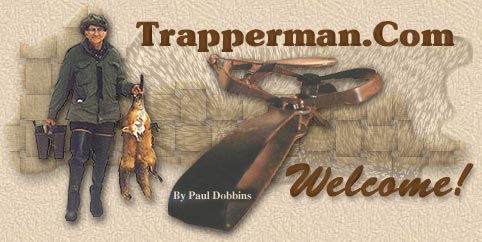 Craft Sales Forum

Home
~
Trap Talk
~
ADC Forum
~
Trap Shed
~
Wilderness Trapping
~
Trapperman.com Live
Trap Chat
~
Auction Forum
~
Trapper Tips
~
Links
~
Gallery
~
Basic Sets
~
Convention Calendar
Photo Gallery
~
Trapper's Humor
~
Strictly Trapping
~
Fur Buyers Directory
~
Mugshots
Trapper's Tales
~
Words From The Past
~
Legends
~
Archives
~
Kids Forum
~Catalog~
Craft Sales Rules
1. All posts made for selling must contain the asking price for the item.
2. It's the sellers responsibility to define clearly how payments are to be made, including shipping costs.
3. Trapperman.com is not responsible for transactions made on this forum.
4. A maximum of ten items per post will be allowed, but anyone can make more than one post.
5. A post may only be brought to the top purposely three times, and will be locked after the third time. Once a post has been locked, it will remain on the forum, but cannot be put back on the forum in the form of a new post for two weeks.
.223 Predator call - Amboyna Burl (SOLD)

#3704776


03/15/13

08:17 PM

03/15/13

08:17 PM

Joined:

Jan 2007


Posts: 345
NW Pennsylvania & North Maine Coulter

OP




trapper

OP


trapper

Joined:

Jan 2007


Posts: 345
NW Pennsylvania & North Maine

I know predator season is winding down for most of us, but I had a request to make one of these and I decided to make two since I was in my "groove".

The call is highly figured amboyna burl with a high gloss finish...very durable. The call is scaled two times the size of a .223 round and has the base of a real .223 round to act as a mock primer (and exhaust). It's loaded with a coaxer reed that will make great bird distress sounds all the way down to rodent squeaks. You can be the first kid on your block to own one of these fine calls. I'll be starting on turkey calls now since the season is upon us. The predator and waterfowl calls will be taking a back seat except for inventory or special orders.

The cost on this call is $40 and there is no shipping charges since Paul allows us to sell on here at no charge...Thanks Paul!

Enough rambling - here she is...

Feel free to shoot me a PM or e-mail with any questions. Thanks for looking,

Steve

Last edited by Coulter;

05/21/13

10:04 AM

.