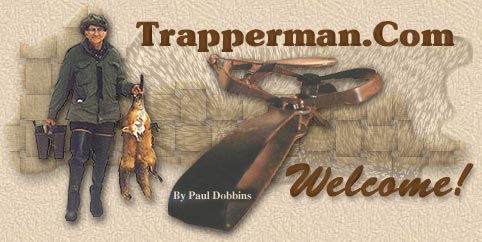 Craft Sales Forum

Home
~
Trap Talk
~
ADC Forum
~
Trap Shed
~
Wilderness Trapping
~
Trapperman.com Live
Trap Chat
~
Auction Forum
~
Trapper Tips
~
Links
~
Gallery
~
Basic Sets
~
Convention Calendar
Photo Gallery
~
Trapper's Humor
~
Strictly Trapping
~
Fur Buyers Directory
~
Mugshots
Trapper's Tales
~
Words From The Past
~
Legends
~
Archives
~
Kids Forum
~Catalog~
Craft Sales Rules
1. All posts made for selling must contain the asking price for the item.
2. It's the sellers responsibility to define clearly how payments are to be made, including shipping costs.
3. Trapperman.com is not responsible for transactions made on this forum.
4. A maximum of ten items per post will be allowed, but anyone can make more than one post.
5. A post may only be brought to the top purposely three times, and will be locked after the third time. Once a post has been locked, it will remain on the forum, but cannot be put back on the forum in the form of a new post for two weeks.
CHARMIN or BRAWNY ( w/ KNIVES)

#6804059


03/16/20

08:50 AM

03/16/20

08:50 AM

Joined:

Jan 2009


Posts: 2,534
Idaho, Lemhi County Gulo

OP




"On The Other Hand"

OP


"On The Other Hand"

Joined:

Jan 2009


Posts: 2,534
Idaho, Lemhi County

For a limited time only! I have been authorized by the Second Grand Poobah of Outer Mongolia to sell you, direct to your mailbox, two squares of top-quality, slightly-used, two-ply toilet paper for only $25! This offer can't last!!! You may receive one of the BONUS PACKAGES with two (count 'em, TWO!) squares of paper towels as an added bonus!!! But Wait! You will receive, direct from the factory, a Trapper Knife as our free gift if yours is among the first trillion orders. Limited time offer, so don't wait!

PM me for ordering information.

Gulo

Last edited by Gulo;

03/16/20

08:52 AM

.

---
Re: CHARMIN or BRAWNY ( w/ KNIVES)

[Re: Gulo] #7232360


04/01/21

04:07 AM

04/01/21

04:07 AM

Joined:

Jan 2014


Posts: 91
Idaho (north central) Katcatcher


trapper


trapper

Joined:

Jan 2014


Posts: 91
Idaho (north central)

Howdy Jack,
I live in Lewiston, Idaho, home of Clearwater Paper Company, where they make the rolls of toilet paper and paper towels and I worked for them for 44 years. So I have an ample supply of those paper products but I am interested in a Free direct from the factory additional gift. I like the drop point Trapper knife and I can include the likely additional $25 shipping & handling or more needed to get it to me. I prefer the juniper handle with the contrasting very dark and light grain colors on the beaver knife at the top.

I have trouble opening PM's sent to me from Trapperman so please send me the ordering information to IDBearCat1@hotmail.com.

Thank you,
Pete

---

BETTER WILDLIFE MANAGEMENT BY GAME MANAGERS
LISTENING TO "REAL" KNOWLEDGEABLE HUNTERS AND TRAPPERS