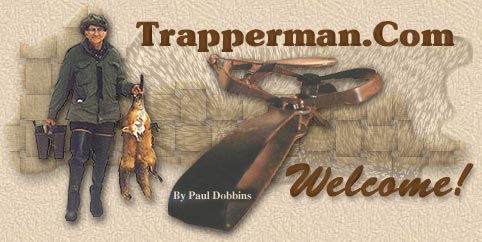 Craft Sales Forum

Home
~
Trap Talk
~
ADC Forum
~
Trap Shed
~
Wilderness Trapping
~
Trapperman.com Live
Trap Chat
~
Auction Forum
~
Trapper Tips
~
Links
~
Gallery
~
Basic Sets
~
Convention Calendar
Photo Gallery
~
Trapper's Humor
~
Strictly Trapping
~
Fur Buyers Directory
~
Mugshots
Trapper's Tales
~
Words From The Past
~
Legends
~
Archives
~
Kids Forum
~Catalog~
Craft Sales Rules
1. All posts made for selling must contain the asking price for the item.
2. It's the sellers responsibility to define clearly how payments are to be made, including shipping costs.
3. Trapperman.com is not responsible for transactions made on this forum.
4. A maximum of ten items per post will be allowed, but anyone can make more than one post.
5. A post may only be brought to the top purposely three times, and will be locked after the third time. Once a post has been locked, it will remain on the forum, but cannot be put back on the forum in the form of a new post for two weeks.
What's it worth ?

#7107060


12/26/20

10:30 PM

12/26/20

10:30 PM

Joined:

Oct 2020


Posts: 72
OH Sfranks

OP




trapper

OP


trapper

Joined:

Oct 2020


Posts: 72
OH

Like to make leather goods for my self but have been told it's worth money any body know what this kind of work is worth

Last edited by Sfranks;

12/26/20

10:31 PM

.
Re: What's it worth ?

[Re: Sfranks] #7108506


12/27/20

10:52 PM

12/27/20

10:52 PM

Joined:

Oct 2020


Posts: 72
OH Sfranks

OP




trapper

OP


trapper

Joined:

Oct 2020


Posts: 72
OH
Re: What's it worth ?

[Re: Sfranks] #7232365


04/01/21

04:14 AM

04/01/21

04:14 AM

Joined:

Jan 2014


Posts: 91
Idaho (north central) Katcatcher


trapper


trapper

Joined:

Jan 2014


Posts: 91
Idaho (north central)

Do you have good leather for making belts? Do you have 1" lettering?
Thanks,
Pete

---

BETTER WILDLIFE MANAGEMENT BY GAME MANAGERS
LISTENING TO "REAL" KNOWLEDGEABLE HUNTERS AND TRAPPERS
Re: What's it worth ?

[Re: Sfranks] #7242767


04/13/21

08:20 PM

04/13/21

08:20 PM

Joined:

Oct 2020


Posts: 72
OH Sfranks

OP




trapper

OP


trapper

Joined:

Oct 2020


Posts: 72
OH

I usually get heavy strap leather I have the large letter set how wide long and thick would you want the belt
Re: What's it worth ?

[Re: Sfranks] #7279386


06/04/21

12:20 PM

06/04/21

12:20 PM

Joined:

May 2019


Posts: 436
Middle Georgia zoozoo400


trapper


trapper

Joined:

May 2019


Posts: 436
Middle Georgia

My dad's bought a few holsters like this for over $75. I'd say that would be a decent place to start