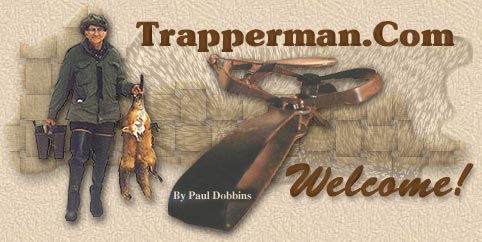 Craft Sales Forum

Home
~
Trap Talk
~
ADC Forum
~
Trap Shed
~
Wilderness Trapping
~
Trapperman.com Live
Trap Chat
~
Auction Forum
~
Trapper Tips
~
Links
~
Gallery
~
Basic Sets
~
Convention Calendar
Photo Gallery
~
Trapper's Humor
~
Strictly Trapping
~
Fur Buyers Directory
~
Mugshots
Trapper's Tales
~
Words From The Past
~
Legends
~
Archives
~
Kids Forum
~Catalog~
Craft Sales Rules
1. All posts made for selling must contain the asking price for the item.
2. It's the sellers responsibility to define clearly how payments are to be made, including shipping costs.
3. Trapperman.com is not responsible for transactions made on this forum.
4. A maximum of ten items per post will be allowed, but anyone can make more than one post.
5. A post may only be brought to the top purposely three times, and will be locked after the third time. Once a post has been locked, it will remain on the forum, but cannot be put back on the forum in the form of a new post for two weeks.
Black walnut selfbow 40# at 25Ē

#7194924


02/24/21

08:13 PM

02/24/21

08:13 PM

Joined:

Mar 2008


Posts: 151
Holts Summit, MO MO_coon-catcher

OP




trapper

OP


trapper

Joined:

Mar 2008


Posts: 151
Holts Summit, MO

Here is a black walnut selfbow made from spliced billets earlier this summer. The tip overlays are persimmon and the bow is dyed with iron acetate, really darkening the hardwood to almost black and the sapwood to a golden brown. The finish is several coats of truoil. I donít shoot it as I have others I like to shoot that are heavier and I would like to open up some rack space.
It pulls 40# at 25Ē and is not intended to be drawn further than that. There is no shelf as itís intended to be shot off the knuckles. The side profile is a little funky due to each limb being a different natural shape of billet before I spliced them. Itís a nice shooting bow and hasnít been shot a lot as itís a bit short of draw length for me.

Iím asking $200 shipped within mainland US with PayPal or Venmo. Will also consider trades for long springs or jump traps of any size, larger bodygrips, or #2 or larger coilsprings. Feel free to shoot me an offer.

I frequently make new bows, so if you would want something custom I can do that also.

Thank you,
Kyle

Last edited by MO_coon-catcher;

02/24/21

08:19 PM

.