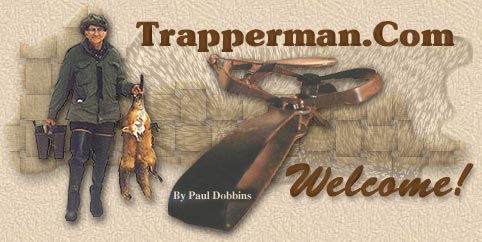 The Pen and Quill
Home ~ Mission Statement ~ Trap Talk ~ ADC Forum ~ Trap Shed ~ Trap Chat
Trapper Tips ~ Links ~ Gallery ~ Basic Sets ~ Convention Calendar ~ Trapper's Humor
Fur Buyers Directory ~ Trapper's Tales ~ Words From The Past ~ Legends ~ Archives
~Catalog~
Re: I wuz wrong!

[Re: James] #7227553


03/26/21

07:40 PM

03/26/21

07:40 PM

Joined:

Apr 2010


Posts: 2,941
Ohio stinkypete


trapper


trapper

Joined:

Apr 2010


Posts: 2,941
Ohio

Kasich is a closet Hillary. Thatís the truth. He is no friend to anyone. Except himself
Re: I wuz wrong!

[Re: James] #7227818


03/26/21

11:13 PM

03/26/21

11:13 PM

Joined:

Dec 2006


Posts: 16,010
Anchorage, Alaska James

OP




"Minka"

OP


"Minka"

Joined:

Dec 2006


Posts: 16,010
Anchorage, Alaska

Somehow, this thread wound up in Pen & Quill.

I feel like I'm in Purgatory!

Jim

---

Forum Infidel since 2001

"And that troll bs is something triggered snowflakes say when they dont like what someone posts." - Boco
Re: I wuz wrong!

[Re: James] #7228028


03/27/21

08:53 AM

03/27/21

08:53 AM

Joined:

Dec 2012


Posts: 4,914
Wi. Diggerman


trapper


trapper

Joined:

Dec 2012


Posts: 4,914
Wi.

Originally Posted by James

For the record, I've never defended Biden here, never told anyone to vote for him, or said I planned to vote for him myself. (My actual vote is my own business.)

But I was wrong in thinking that his pre-election talk about gun control was just rhetoric. I thought he would realize he had bigger fish to fry and would not want to expend limited political capital on guns. My prediction was wrong. In fact, Biden is now seriously pushing gun control. He deserves the resistance of all gun owners.

If I pooh-poohed someone's doomsaying about Biden's anti-Second Amendment policies, I have to say this: you were right.

Now, before someone posts to accuse me of posting "click-bait," or urges others to skip the thread, why don't you just skip it yourself? Everyone who starts a thread wants to get replies. In this, I am as guilty as anyone else. I'm not trying to make anyone mad, but I would like to incite some thoughtful, civil replies.

Even if they're just to say, "I told you so, James."

Jim

I am truly sorry I called you naive, I thought you knew.