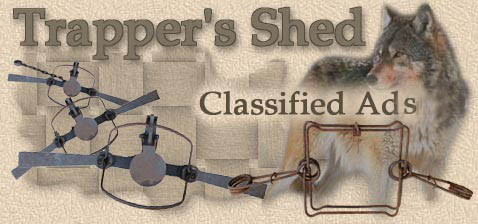 No Profanity *** No Flaming *** No Advertising *** No Anti Trappers *** No Politics
No Non-Target Catches *** No Links to Anti-trapping Sites *** No Avoiding Profanity Filter
Home
~
Trap Talk
~
ADC Forum
~
Trap Shed
~
Wilderness Trapping
~
International Trappers
~
Fur Handling
Auction Forum
~
Trapper Tips
~
Links
~
Gallery
~
Basic Sets
~
Convention Calendar
~
Chat
~
Trap Collecting Forum
Trapper's Humor
~
Strictly Trapping
~
Fur Buyers Directory
~
Mugshots
~
Fur Sale Directory
~
Wildcrafting
Trapper's Tales
~
Words From The Past
~
Legends
~
Archives
~
Kids Forum
~
Lure Formulators Forum
~~~ Dobbins' Products Catalog ~~~
Trap Shed Rules
1. All posts made for selling must contain the asking price for the item - this is not Ebay.
2. No electronic media (videos, dvds, audios) will be sold or traded on this forum.
3. Trapperman.com is not responsible for transactions made at this site.
4. This page is intended for the sale, trade or purchase of used trapping equipment and not a place to sell new items, or stuff you manufacture.
5. No Begging for free stuff
6. A post may only be brought to the top purposely three times, and will be locked after the third time. Once a post has been locked or deleted, it cannot be put back on the forum for one month.
7. Make it clear what you wish in the title, not just WTT or WTB
8. The only reply allowed on each thread is a reply by the post initiator. All questions and communications will be done by PMs only. If PMs aren't answered in a timely manner, the poster will be banned from using the Trap Shed. (Exception to Rule #8 - A reply is allowed by a person who sends payment. Once payment sent is posted, the post will be locked.)
9. Except for muzzleloaders, no Guns, or ammunition will be bought/sold/traded on this forum.
10. You are limited to three active threads at any one time for selling/trading/buying items. All posts older than 1 month with no activity will be locked
WTB / ? : St. Louis / FC Taylor catalogs 1918-1921

#7836180


04/02/23

09:03 AM

04/02/23

09:03 AM

Joined:

Apr 2023


Posts: 1
WI JohnF

OP




trapper

OP


trapper

Joined:

Apr 2023


Posts: 1
WI

I'd like to buy F C Taylor catalogs from 1918, 1919, 1920, 1921.

I'm writing a book about author Sterling North's book "Rascal: A Memoir of a Better Era," published in 1963, about his raising a pet raccoon in 1918, which also became a Disney movie in 1969, and a popular Japanese anime in 1977. There's a plot point in the book and anime about a catalog from a St. Louis company. Sterling is trying to make money in order to build his canoe, He plans to trap muskrats to raise the money.

Quote

During the afternoon my elation slowly subsided, and I began oiling my muskrat traps for the season ahead. Rascal was always interested in whatever I was doing. But when he came to sniff and feel the traps, a terrible thought slowed my fingers. Putting my traps aside I opened one of the catalogues sent to trappers by the St. Louis fur buyers. There, in full color, on the very first page was a handsome raccoon, his paw caught in a powerful trap.

I'd like to figure out which catalog this was. I'm assuming F. C. Taylor. I'd like pictures for my book, and I may donate the catalog to the Sterling North Museum in Edgerton, Wisconsin as well.

F. C. Taylor did have ads like this:

Last edited by JohnF;

04/02/23

09:13 AM

.