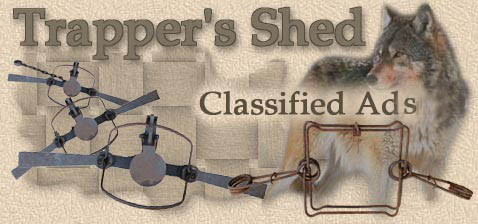 No Profanity *** No Flaming *** No Advertising *** No Anti Trappers *** No Politics
No Non-Target Catches *** No Links to Anti-trapping Sites *** No Avoiding Profanity Filter
Home
~
Trap Talk
~
ADC Forum
~
Trap Shed
~
Wilderness Trapping
~
International Trappers
~
Fur Handling
Auction Forum
~
Trapper Tips
~
Links
~
Gallery
~
Basic Sets
~
Convention Calendar
~
Chat
~
Trap Collecting Forum
Trapper's Humor
~
Strictly Trapping
~
Fur Buyers Directory
~
Mugshots
~
Fur Sale Directory
~
Wildcrafting
Trapper's Tales
~
Words From The Past
~
Legends
~
Archives
~
Kids Forum
~
Lure Formulators Forum
~~~ Dobbins' Products Catalog ~~~
Trap Shed Rules
1. All posts made for selling must contain the asking price for the item - this is not Ebay.
2. No electronic media (videos, dvds, audios) will be sold or traded on this forum.
3. Trapperman.com is not responsible for transactions made at this site.
4. This page is intended for the sale, trade or purchase of used trapping equipment and not a place to sell new items, or stuff you manufacture.
5. No Begging for free stuff
6. A post may only be brought to the top purposely three times, and will be locked after the third time. Once a post has been locked or deleted, it cannot be put back on the forum for one month.
7. Make it clear what you wish in the title, not just WTT or WTB
8. The only reply allowed on each thread is a TTT by the post initiator. All questions and communications will be done by PMs only. If PMs aren't answered in a timely manner, the poster will be banned from using the Trap Shed. (Exception to Rule #8 - A reply is allowed by a person who sends payment. Once payment sent is posted, the post will be locked.)
9. Except for muzzleloaders, no Guns, or ammunition will be bought/sold/traded on this forum.
10. You are limited to three threads at any one time for selling/trading/buying items. All posts older than 1 month with no activity will be locked
Victor 1.75 offset coils for sale Reduced

#6549378


06/04/19

02:28 PM

06/04/19

02:28 PM

Joined:

Nov 2015


Posts: 170
Ohio WayOfLife

OP




trapper

OP


trapper

Joined:

Nov 2015


Posts: 170
Ohio

I have 14 vic 1.75s offsets that are about 2 years old . 8 of them have outside lams and #2 music wire springs and 6 have stock jaws and springs. All 14 have had the chains and swivels replaced with American #2 welded chain and 2 MB crunch proof swivels to create 3 swivel points. 1 of the ones with lams has a crude weld job on it but is a new trap and fully functional. These traps all have the newer victor frame/base on them that are center located. Half dozen of these are forged jaws but honestly I can tell the difference in the ones that are or aren't. You may need to adjust these traps to your liking. These traps were dyed in walnut hulls and waxed at the beginning of every season.

155.00 shipped OBO for just the traps. PayPal friends and family preferred

Last edited by WayOfLife;

06/11/19

03:19 PM

.
Re: Victor 1.75 offset coils for sale Reduced

[Re: WayOfLife] #6553428


06/11/19

03:20 PM

06/11/19

03:20 PM

Joined:

Nov 2015


Posts: 170
Ohio WayOfLife

OP




trapper

OP


trapper

Joined:

Nov 2015


Posts: 170
Ohio