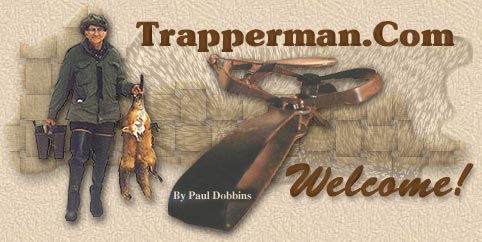 Strictly Trapping
No Profanity *** No Flaming *** No Advertising *** No Anti Trappers *** No Politics
No Non-Target Catches *** No Links to Anti-trapping Sites *** No Avoiding Profanity Filter
Home
~
Trap Talk
~
ADC Forum
~
Trap Shed
~
Wilderness Trapping
~
International Trappers
~
Fur Handling
Auction Forum
~
Trapper Tips
~
Links
~
Gallery
~
Basic Sets
~
Convention Calendar
~
Chat
~
Trap Collecting Forum
Trapper's Humor
~
Strictly Trapping
~
Fur Buyers Directory
~
Mugshots
~
Fur Sale Directory
~
Wildcrafting
Trapper's Tales
~
Words From The Past
~
Legends
~
Archives
~
Kids Forum
~
Lure Formulators Forum
~~~ Dobbins' Products Catalog ~~~
I'm back

#6684745


12/06/19

02:36 AM

12/06/19

02:36 AM

Joined:

Jul 2013


Posts: 515
South Dakota SD Coon Catcher

OP




trapper

OP


trapper

Joined:

Jul 2013


Posts: 515
South Dakota

Well after being off of Trapperman for a year or two and not trapping last season, I'm back. First year of college distracted me a bit from setting traps, but this year I've got my priorities straight. It's funny how you might not be setting steel for a season but once you get after it again you realize just how much you missed it. Long story short, a landowner got a hold of me about trapping some beaver and I had to take advantage of a landowner contacting

me

. So I was back at it during Thanksgiving break. Weather was cold, windy, and rain/ice/snow precipitation everyday, but what's better than a storm system to get fur moving? I set out 9 beaver snares, a couple baited 110s & 160 bodygrippers for muskrat, a couple DP's, and a few 1 1/2 coils for mink/coon. There was a little ice but I found were the beavers made a large dam where the water was open around it. After setting traps Thanksgiving morning, I was back at it!

First check (Nov.29)

: Beaver! Bingo, making the landowner happy and knocking the rust off! This beaver had some nasty fight scars on its left shoulder, so I decided It was a great candidate for me to skin, flesh, and board myself (ever since I tried using my nice caribou fleshing knife on a coon that I proceeded to wreck when I was younger, I've been a little hesitant to try my hand at it again....... with a little more prep and study of online resources, I think it turned out alright!)

Second check (Nov.30)

: Wasn't looking good until the last set of the day...... DP set directly on coon tracks the day before (I added a few more sets)..... held a nice sow coon! Another worthy candidate of fleshing and boarding practice.

Third check (Dec.1)

: Last day to have traps out, then it is back to college to knockout last 2 weeks of semester. By far the coldest and windiest day, roads were horrible, cows grouped up in the pastures like penguins huddling together..... the type of day were most guys are sitting on the couch watching football staying warm. But I had traps to check and pull, so out I went. Nothing in the beaver snares, pulled them and kept moving. Mink tracks and coyote tracks all over the marsh, looking like stuff was moving. On to my first baited bodygripper, a 160 baited with a small ear of hardened field corn. Trap was down. If there was one thing I wanted to catch this Thanksgiving it was a Muskrat..... not just any muskrat.... my first ever muskrat! I know- pretty sad considering I'd been trapping South Dakota for my past four seasons trapping. Thing is I never targeted them, I was always after 'coon and beaver. I pull up the trap and MUSKRAT! I was froze but there ain't nothing like catching fur on those miserable days when no one else is out. Right then I thought, hmmm... sure would be something if I completed the waterline quad (Beaver, coon, muskrat, and mink) in just three days- all I needed now was a mink. Ah wishful thinkin', all that was. It had taken me weeks to catch the two other mink I had ever caught before in past seasons, surely I wouldn't catch one on check three. I get to the next baited bodygripper, a 110 with a hunk of apple. I see fur, another muskrat!! I chopped the ice away, lifted up the trap, and to my surprise it was a big buck mink!! I would have laughed in someones face had they told me they were using apples for mink! I had my quad and I was feeling good. Mink through the ice, what a great stroke of luck. Nothing in the other traps, pulled everything and my three day line was history.

Nice 'rat!

South Dakota buck mink through the ice! I think I'm going to have the muskrat and the mink tanned, means more to me to keep there fur then sell them for next to nothing.

Some other photos:

Boarded fur. You can see the scars on the beaver. I'll be honest, I need more practice... I put a few holes in the fur and I think I should maybe have used more nails on the beaver to get a more circular shape. No big deal- using them for practice and not worth too much anyways. These lean years are great for practice no doubt.

Setting snares, trying to get down the beaver dam.... those 36" Tbars I made sure make great walking sticks!

Sun is setting and snow is blowing on a successful last day on the line, come Christmas break I'll be back!!

After my brief time away from trapping and the trapping community, I'm back and ready to get after it. Thanks for reading, if you've made it this far.

Tight chains!
Re: I'm back

[Re: SD Coon Catcher] #6684826


12/06/19

08:18 AM

12/06/19

08:18 AM

Joined:

Dec 2010


Posts: 2,804
central arkansas the Blak Spot


trapper


trapper

Joined:

Dec 2010


Posts: 2,804
central arkansas

---

the just shall live by faith

member FTA, NRA, SWARFTA, EAFT
1776 - the year we told a tyrant we weren't to be under a dictator
Caveat ater macula
Re: I'm back

[Re: SD Coon Catcher] #6684841


12/06/19

08:42 AM

12/06/19

08:42 AM

Joined:

Dec 2017


Posts: 2,417
Kansas Pawnee


trapper


trapper

Joined:

Dec 2017


Posts: 2,417
Kansas

Nice pics. Glad you found time to trap again.

---

Everything the left touches it destroys
Re: I'm back

[Re: SD Coon Catcher] #6684845


12/06/19

08:44 AM

12/06/19

08:44 AM

Joined:

Dec 2015


Posts: 1,783
NNY 080808


trapper


trapper

Joined:

Dec 2015


Posts: 1,783
NNY

Congrats. Thatís one nice mink. Iím jealous.
Re: I'm back

[Re: SD Coon Catcher] #6684991


12/06/19

11:03 AM

12/06/19

11:03 AM

Joined:

Nov 2019


Posts: 463
N.W. Pennsylvania JTaddeo


trapper


trapper

Joined:

Nov 2019


Posts: 463
N.W. Pennsylvania

Awesome! Nice catches man....

---

Keep your boots dry and your powder too.

I remember when a fur check was reality.....now I'm just trapping for the love of it.

Best Regards,

JT
Re: I'm back

[Re: SD Coon Catcher] #6685955


12/07/19

12:55 PM

12/07/19

12:55 PM

Joined:

Jun 2010


Posts: 7,870
Lewistown , Mt Allan Minear


trapper


trapper

Joined:

Jun 2010


Posts: 7,870
Lewistown , Mt

Congratulations on your success on your first run of traps this season !
If I may make a suggestion when skinning beaver I preferred a flat surface with a 20" tarp strap attached to the board so I could hook it to the beaver carcass for resistance while I skinned it out.
Then learn to clean skin them I found it much quicker and a lot easier, while skinning them I'd basically try to skin the carcass off the hide if that makes sense ?
Keep a good sharpening steel handy so when your knife starts to feel a bit dull touch it up a razor sharp knife makes skinning beaver so much easier.
Keep up the good work enjoy and Stay Safe out there !
Allan

---