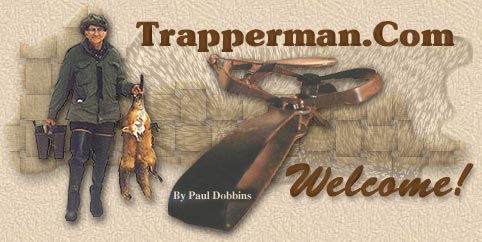 Strictly Trapping
No Profanity *** No Flaming *** No Advertising *** No Anti Trappers *** No Politics
No Non-Target Catches *** No Links to Anti-trapping Sites *** No Avoiding Profanity Filter
Home
~
Trap Talk
~
ADC Forum
~
Trap Shed
~
Wilderness Trapping
~
International Trappers
~
Fur Handling
Auction Forum
~
Trapper Tips
~
Links
~
Gallery
~
Basic Sets
~
Convention Calendar
~
Chat
~
Trap Collecting Forum
Trapper's Humor
~
Strictly Trapping
~
Fur Buyers Directory
~
Mugshots
~
Fur Sale Directory
~
Wildcrafting
Trapper's Tales
~
Words From The Past
~
Legends
~
Archives
~
Kids Forum
~
Lure Formulators Forum
~~~ Dobbins' Products Catalog ~~~
Re: TRAP DRAGS- Different kind

[Re: chicken] #7008358


10/04/20

09:19 AM

10/04/20

09:19 AM

Joined:

Jan 2007


Posts: 5,421
Montana Taximan


trapper


trapper

Joined:

Jan 2007


Posts: 5,421
Montana
Re: TRAP DRAGS- Different kind

[Re: T_inman] #7008404


10/04/20

10:26 AM

10/04/20

10:26 AM

Joined:

Jan 2007


Posts: 5,421
Montana Taximan


trapper


trapper

Joined:

Jan 2007


Posts: 5,421
Montana



"Anyhow back to drags (and not the queen type). Do folks here use dry or green sticks when using a small diameter, but fairly long stick to get hung up in grass and brush?"

I have used green conifers to act as both blocking and a drag,for cats,in forest.Cats don't usually take a drag very far.Most of our grassland has been grazed down by cattle by the time season rolls in so any drag would have to be very aggressive,very heavy or both.There is little to snag on so weight hopefully will slow an animal way down and tire it in the meantime.

I have used dry poles but the bottom line is,it must be plenty solid for the targeted animal.Green can be much stronger but when trapping on public land,I can't cut green.On private,I have permission to.Most of my clogs,when used need to be heavier as there is always a chance of a lion encounter in forest country and some possibility of contact with wolves in the prairie.

I can tell you of one tree that grows here that is super tough,green or dead.That is the mountain mahoghany.It is a bushy tree with very tough,scratchy limbs and bark and extremely tough,sinewy wood.Wood workers say it destroys woodworking tools.I know I snapped off two lag screws,trying to hang a bear box for a trail camera.I gave up.You can't find a straight limb or trunk on one,so no poles,but the bushy tree might make a great drag as is.A standing tree is solid to anchor to but there could be a potential for fur damage.

Another tree here that has the potential to remain strong after becoming dry,is the juniper.The ranchers tell me juniper fence posts can last in the ground for 30 years.I have access to some old juniper fence posts.Some are still solid,some not.

In the lower 48 there is such a variety of topography,tree types and annual rainfall,some areas may have very little dry stuff that can be trusted.It is a good question and I would like to hear from others in different habitats.



Re: TRAP DRAGS- Different kind

[Re: chicken] #7008479


10/04/20

11:58 AM

10/04/20

11:58 AM

Joined:

Dec 2006


Posts: 20,326
Wisconsin The Beav


trapper


trapper

Joined:

Dec 2006


Posts: 20,326
Wisconsin

If I had to deal with your conditions I would either buy some silo staves or patio blocks or pour your own. Then put a eye bolt In that set up. 16 or 20 Lbs should do the trick as far as weight goes.
Paint them put some glue on them and put some sand In that glue to get a camo effect.
You could place most of the chain under the slab and kick a little ground duff over It and you should be good to go.
When you pull the line just leave them In place If It's a good location. I guess I would paint the bottom a Blaze orange so you could either stand It up or just tip It over so you could see It.

---

The forum Know It All according to Muskrat
Re: TRAP DRAGS- Different kind

[Re: chicken] #7008500


10/04/20

12:22 PM

10/04/20

12:22 PM

Joined:

Jan 2007


Posts: 5,421
Montana Taximan


trapper


trapper

Joined:

Jan 2007


Posts: 5,421
Montana

thanks Beav.I have been toying with the idea of pouring artificial rocks from cement.The mold would a hole dug in the groun d or better yet,a sand bar in that country.It would have an eye bolt imbedded in the bottom.I am used to making artificial rocks out of other materials and could use concrete paints to match them to stones in the area.The bottoms would be flat so the orange paint would work slick.I had never thought of that.Maybe the "eye" better be on top? Thanks for the tip.

I think 20 lbs would work for coyotes but thinkin more like 60-65# for wolves.A fellow could still hide a grapple and chain under the rock,for insurance.What do you guys think?

Here are some artificial rocks that I built from scratch and painted,not concrete though but I'm sure you could do the same with concrete