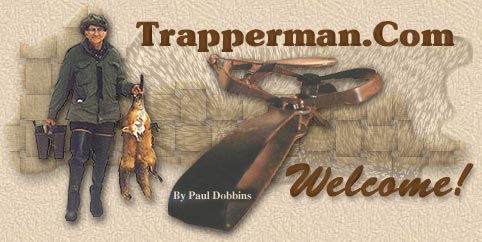 The Pen and Quill
Home ~ Mission Statement ~ Trap Talk ~ ADC Forum ~ Trap Shed ~ Trap Chat
Trapper Tips ~ Links ~ Gallery ~ Basic Sets ~ Convention Calendar ~ Trapper's Humor
Fur Buyers Directory ~ Trapper's Tales ~ Words From The Past ~ Legends ~ Archives
~Catalog~
Story

#7180465


02/13/21

01:41 PM

02/13/21

01:41 PM

Joined:

Oct 2019


Posts: 2,828
Kentucky KYtrapper2005

OP




trapper

OP


trapper

Joined:

Oct 2019


Posts: 2,828
Kentucky

This is a story I wrote for the young trappers writing contest put on by Mr. Goodman.






It was 0500 on December 23 Joey slipped out of bed and put on his overalls. Joey walked to the bathroom brushed his teeth and headed out the door. The air was cold he zipped his new Carhartt coat he got for his birthday. He climbed in the Polaris Ranger and it wouldn't start. "Great he said I'm already late meeting Mr. Billings." Mr. Billings was a man who had lost his wife and son a forty years ago when Joey moved in down the road, they became trapping partners at once. Joey decided to take the '97 Ford F-150 instead. He met Mr. Billings at the stroke of six. "I was beginning to think you went into hibernation" said Mr. Billings. "yeah, the Ranger was dead" said Joey. "Well get over here Christmas comes early at my house" said Mr. Billings. Joey tore into the box and there was 6 #2 Bridgers! "Oh sir this is to much" Joey said. "Hey its fine" Mr. Billings assured him just catch that red fox that killed my chickens, ok?" "Yessir" exclaimed Joey as they shook hands.
The day went on and they each got sets out. Joey targeted that fox that killed the chickens with almost every trap he had. The two took a break for lunch and Joey asked "how did you lose your family" Mr. Billings stared in the distance and said with a tremble in his voice, "it was a house fire. The only time I left Fox Hollow in my almost 70 years of life my family died. It started from the coffee pot I left on its my fault they are dead. I have to stay strong though. You know you remind me a lot of my son." Joey said "I am so sorry I had no idea" "it's fine" Mr. Billings said don't let me get you down.
After lunch they drove to the house and prepared the new traps Joey got that morning. They boiled them dyed and waxed them. They went inside to watch tv and the local news had a headline that read "Fish and Wildlife department offering $500 reward for red fox in Fox Hollow." Joey jumped to his feet and said hysterically "Did you hear that?" "calm down child I'm old but I'm not deaf." They went on to say it was rabid and had killed a baby goat on the Johnson farm. Joey said "I want to catch it momma and I could use that money. Things have been tight ever since the mining accident that killed daddy." Mr. Billings said a prayer under his breath that Joey would get the fox.
The day came to an end and Joey went to bed excited for what he may have in the morning. He woke up went about his routine but this time he got in the Polaris Ranger. He had remembered to charge it. He pulled up to the Billings house at 5:45. "you are in the ranger today" Mr. Billings said. "Yessir" Joey remarked "are you ready to check the line?" "Yes I figured we could take your ranger" Billings said. "No problem" Joey told him. The first sets had nothing. The water traps held 2 beaver, a muskrat, and a mink. They had a coyote in a snare. And a coon in a Sleepy Creek 1.5 coil spring. "we are coming up on the last set" Joey said "I know child" Mr. billings said. The last set wasn't empty but Joey wished it was though. "Dang it! It's a possum" They got it out of the trap remade the set and went to the house.
That night at bed Joey prayed "God Christmas is tomorrow. I guess you already knew that since it is the day your son was born. I want nothing more than to catch that fox God momma and I could use the money. So if you see fit could you give me the fox in the morning?" Joey fell asleep and instead of visions of sugar plums dancing in his head he dreamed of a fox dancing in a Victor #2 double long spring.
The next morning was much like the one before only it was Christmas Joey handed Mr. Billings a new Case pocket knife he spent his lawn mowing money on. Teary eyed Mr. billings took the gift and slipped the knife in his pocket.
The first sets had a skunk and a grey fox it was a fox but not he red they were after. At the water sets there was only a muskrat. The next traps were coons, coons, and more coons. Discouraged Joey drove to the last set. He couldn't believe his eyes. There in his trap was the red fox! He got out shaking so bad he had Mr. Billings dispatch it for him. They called it in and went to collect the prize money. A woman handed Joey the money. 5 $100 bills. Joey kept one and handed the rest to his mom when he got home. In tears his mom said "The Lord still answers prayers! We have rent due and I didn't know how I would pay but the Lord gave me a way!" Joey said "yes momma, you're right he does answer prayers!" That evening Mr. Billings had the two over for burgers, chips, and cola not a traditional Christmas supper but to the three it couldn't get any better

---

Trapping is what built North America, why take that away?


pro second amendment-- pro God-- pro Trump-- Pro America!