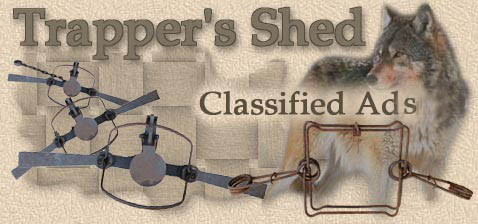 No Profanity *** No Flaming *** No Advertising *** No Anti Trappers *** No Politics
No Non-Target Catches *** No Links to Anti-trapping Sites *** No Avoiding Profanity Filter
Home
~
Trap Talk
~
ADC Forum
~
Trap Shed
~
Wilderness Trapping
~
International Trappers
~
Fur Handling
Auction Forum
~
Trapper Tips
~
Links
~
Gallery
~
Basic Sets
~
Convention Calendar
~
Chat
~
Trap Collecting Forum
Trapper's Humor
~
Strictly Trapping
~
Fur Buyers Directory
~
Mugshots
~
Fur Sale Directory
~
Wildcrafting
Trapper's Tales
~
Words From The Past
~
Legends
~
Archives
~
Kids Forum
~
Lure Formulators Forum
~~~ Dobbins' Products Catalog ~~~
Trap Shed Rules
1. All posts made for selling must contain the asking price for the item - this is not Ebay.
2. No electronic media (videos, dvds, audios) will be sold or traded on this forum.
3. Trapperman.com is not responsible for transactions made at this site.
4. This page is intended for the sale, trade or purchase of used trapping equipment and not a place to sell new items, or stuff you manufacture.
5. No Begging for free stuff
6. A post may only be brought to the top purposely three times, and will be locked after the third time. Once a post has been locked or deleted, it cannot be put back on the forum for one month.
7. Make it clear what you wish in the title, not just WTT or WTB
8. The only reply allowed on each thread is a reply by the post initiator. All questions and communications will be done by PMs only. If PMs aren't answered in a timely manner, the poster will be banned from using the Trap Shed. (Exception to Rule #8 - A reply is allowed by a person who sends payment. Once payment sent is posted, the post will be locked.)
9. Except for muzzleloaders, no Guns, or ammunition will be bought/sold/traded on this forum.
10. You are limited to three threads at any one time for selling/trading/buying items. All posts older than 1 month with no activity will be locked
GARMIN INREACH EXPLORER PLUS

#7250168


04/23/21

11:13 AM

04/23/21

11:13 AM

Joined:

Jul 2017


Posts: 1,347
Ohio Willy Firewood

OP




trapper

OP


trapper

Joined:

Jul 2017


Posts: 1,347
Ohio

Garmin InReach Explorer Plus - Both a GPS and satellite communicator.
Plus it has an Emergency SOS feature.
It communicates directly to any email address or text number.
I used this only for a few months while working at a remote location.
Like new condition.
In the original box with instructions.
Easy to setup and use.
$325. (New price is $450.) Payment must be PayPal, U.S. Postal money order, or personal check which must clear before the item will be shipped.

Free shipping by U.S. Priority mail to anywhere in the lower 48 states and Alaska. For shipping to Canada add $20.
Features:
Full GPS navigation capability.
See your position on the full color topo map screen or load Birdseye maps and navigate using a satellite photo screen.
Get local weather forecasts.
Communicate without a cellular signal! With this device you can communicate directly to any email address or telephone text message with no cellular service required.
Send your location and info to Facebook if you use it.
Store your contacts from your smartphone in this device or link with your smartphone for even more features.
The system uses the GPS and satellites to communicate.
This works worldwide.
Worldwide SOS emergency search and rescue - a monthly subscription is required.
Easy push button controls - not an annoying touch screen.
To communicate, a monthly service plan is required. Turn on or off the plan as desired. Tailor the plan to your needs.
Transmit your location signal to family or friends.

Send me a private message if interested.