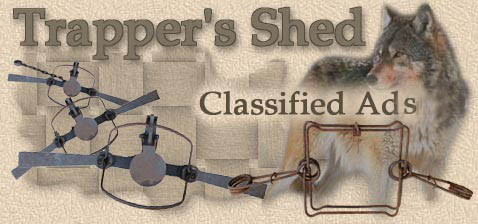 No Profanity *** No Flaming *** No Advertising *** No Anti Trappers *** No Politics
No Non-Target Catches *** No Links to Anti-trapping Sites *** No Avoiding Profanity Filter
Home
~
Trap Talk
~
ADC Forum
~
Trap Shed
~
Wilderness Trapping
~
International Trappers
~
Fur Handling
Auction Forum
~
Trapper Tips
~
Links
~
Gallery
~
Basic Sets
~
Convention Calendar
~
Chat
~
Trap Collecting Forum
Trapper's Humor
~
Strictly Trapping
~
Fur Buyers Directory
~
Mugshots
~
Fur Sale Directory
~
Wildcrafting
Trapper's Tales
~
Words From The Past
~
Legends
~
Archives
~
Kids Forum
~
Lure Formulators Forum
~~~ Dobbins' Products Catalog ~~~
Trap Shed Rules
1. All posts made for selling must contain the asking price for the item - this is not Ebay.
2. No electronic media (videos, dvds, audios) will be sold or traded on this forum.
3. Trapperman.com is not responsible for transactions made at this site.
4. This page is intended for the sale, trade or purchase of used trapping equipment and not a place to sell new items, or stuff you manufacture.
5. No Begging for free stuff
6. A post may only be brought to the top purposely three times, and will be locked after the third time. Once a post has been locked or deleted, it cannot be put back on the forum for one month.
7. Make it clear what you wish in the title, not just WTT or WTB
8. The only reply allowed on each thread is a reply by the post initiator. All questions and communications will be done by PMs only. If PMs aren't answered in a timely manner, the poster will be banned from using the Trap Shed. (Exception to Rule #8 - A reply is allowed by a person who sends payment. Once payment sent is posted, the post will be locked.)
9. Except for muzzleloaders, no Guns, or ammunition will be bought/sold/traded on this forum.
10. You are limited to three active threads at any one time for selling/trading/buying items. All posts older than 1 month with no activity will be locked
Some Newhouse Collector SOLD

#7876978


06/02/23

06:01 PM

06/02/23

06:01 PM

Joined:

Dec 2006


Posts: 2,445
revillo, sd cohunt

OP




trapper

OP


trapper

Joined:

Dec 2006


Posts: 2,445
revillo, sd

I have 3 #4 raised letter S Newhouse double long spring traps for sale. Little or no use. dyed black. NOW 85.00 each plus 15 shipping. all 3 for 300.00 delivered in US. I also offer a set of 4 different # 48 S Newhouse traps. These are #4 size double long spring traps very similar to #4 Newhouse with cast jaws, jaw posts, and pans but the #48 traps have teeth cast into the jaws and the teeth fit under the opposing jaw. The #48 traps are outstanding beaver and otter traps with a 100 year old history of use in North America. These 4 traps include one each of the following. A S Newhouse #48 made by Oneida Community before 1925 that is stamped Oneida Community NY that has a factory 60 inch Newhouse cutlink chain with cast swivel and ring and the matching #48 with the same pan stamping and age that has a factory 24 inch cutlink chain, swivel and ring. Along with the two Oneida Community traps are a matching pair of #48 Newhouse made after 1925 and marked with Aniimal Trap Co Lititz Pa on the pans, one trap has a 60 inch factory twist link Newhouse chain while the other has a 24 inch factory twist link chain. Offering the set of 4 traps complete in excellent condition but with typical light #48 stamping all 4 for NOW 460 delivered in the US. ALL are SOLD

Last edited by cohunt;

06/09/23

02:57 PM

.