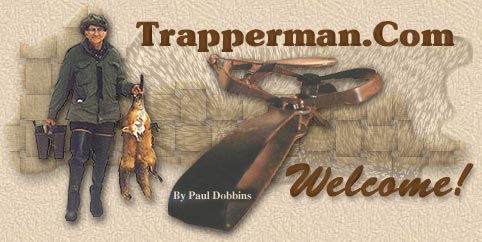 Trap Preparation Archive
No Profanity *** No Flaming *** No Advertising *** No Anti Trappers *** No Politics
No Non-Target Catches *** No Links to Anti-trapping Sites *** No Avoiding Profanity Filter
Home
~
Trap Talk
~
ADC Forum
~
Trap Shed
~
Wilderness Trapping
~
International Trappers
~
Fur Handling
Auction Forum
~
Trapper Tips
~
Links
~
Gallery
~
Basic Sets
~
Convention Calendar
~
Chat
~
Trap Collecting Forum
Trapper's Humor
~
Strictly Trapping
~
Fur Buyers Directory
~
Mugshots
~
Fur Sale Directory
~
Wildcrafting
Trapper's Tales
~
Words From The Past
~
Legends
~
Archives
~
Kids Forum
~
Lure Formulators Forum
~Catalog~
CLEAN - Ol' Blue's Trap Prep Step 1:Cleaning Traps

#854654


08/27/08

05:24 PM

08/27/08

05:24 PM

Joined:

Oct 2007


Posts: 7,301
VA BlueRidgeTrapper

OP




trapper

OP


trapper

Joined:

Oct 2007


Posts: 7,301
VA

I know this has been addressed 1000 times but I guess once more won't hurt...This is my method for cleaning new & old traps...

Step 1: I like to bundle my traps in bundles of 6-8 to make them easier to work with.

Step 2: I like to hose down any traps that have mud or dirt built up on them.

Step 3: I boil old and new traps in a mix of water and baking soda for about 20 minutes to remove old wax and debris. The cooker I am using in this picture is something I picked up for $8 at KMart.

Step 4: For new traps I will take them out of the pot and rinse them off, then I will hang them up and spray them with a sprayer filled with White Vinegar. I will repeat this about 2 or 4 times over the next day or two until a coating of rust has formed. REMEMBER to spray them off after the rust has formed to stop the process or they will continue to rust.

Step 5: For older traps that have been dyed and waxed before I will simply spray them off and hang them to dry.