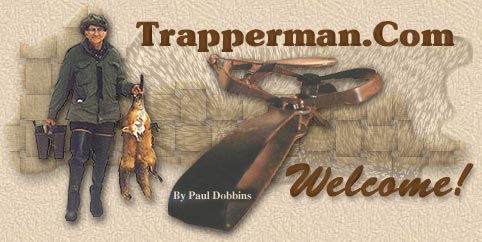 Legislative Alerts
Home ~ Mission Statement ~ Trap Talk ~ ADC Forum ~ Trap Shed ~ Trap Chat
Trapper Tips ~ Links ~ Gallery ~ Basic Sets ~ Convention Calendar ~ Trapper's Humor
Fur Buyers Directory ~ Trapper's Tales ~ Words From The Past ~ Legends ~ Archives
~Catalog~
Re: New Hampshire trappers

[Re: Raccoontrapper] #2082468


07/30/10

09:11 AM

07/30/10

09:11 AM

Joined:

Jun 2010


Posts: 1
NH JustinNH


trapper


trapper

Joined:

Jun 2010


Posts: 1
NH

Any one have news on this?

I know its a little old, but thanks for the info

---

2011-2012 Trapping:
Skunk- 5
Grinner- 3
Coon- 2

Re: New Hampshire trappers

[Re: JustinNH] #2083670


07/31/10

12:06 PM

07/31/10

12:06 PM

Joined:

Nov 2009


Posts: 843
NH sgs


trapper


trapper

Joined:

Nov 2009


Posts: 843
NH
Re: New Hampshire trappers

[Re: Raccoontrapper] #2320437


12/22/10

11:43 PM

12/22/10

11:43 PM

Joined:

Dec 2010


Posts: 25
Arizona thegopherguy


trapper


trapper

Joined:

Dec 2010


Posts: 25
Arizona

You know I was thinking, we often hear about upcoming bills that threaten our way of life and if they pass we raise [Please excuse my language... I'm an idiot] for a long time and do what we can to get them overturned. However, when a bill doesn't pass, we often just go "wow that was close". We don't really carry on about the victory and I think that's a mistake. We focus most of our time and efforts on the negative but we don't really celebrate the positive. It gives me great will power to hear about victories and I find myself getting involved more often when I can be a part of the outcome. I guess what I'm trying to say is that it's great to call up your representatives and tell them what you don't want, but it's probably better to call them after and celebrate the fruition of hard work. Tell your friends, neighbors, and the papers thank you for preserving our freedoms. Remember everyone, thougts become things!

---

" A nation of sheep breeds a government of wolves! "